TMX POV - Critical minerals, COP26, and a flurry of dealmaking: Insights from Toronto Stock Exchange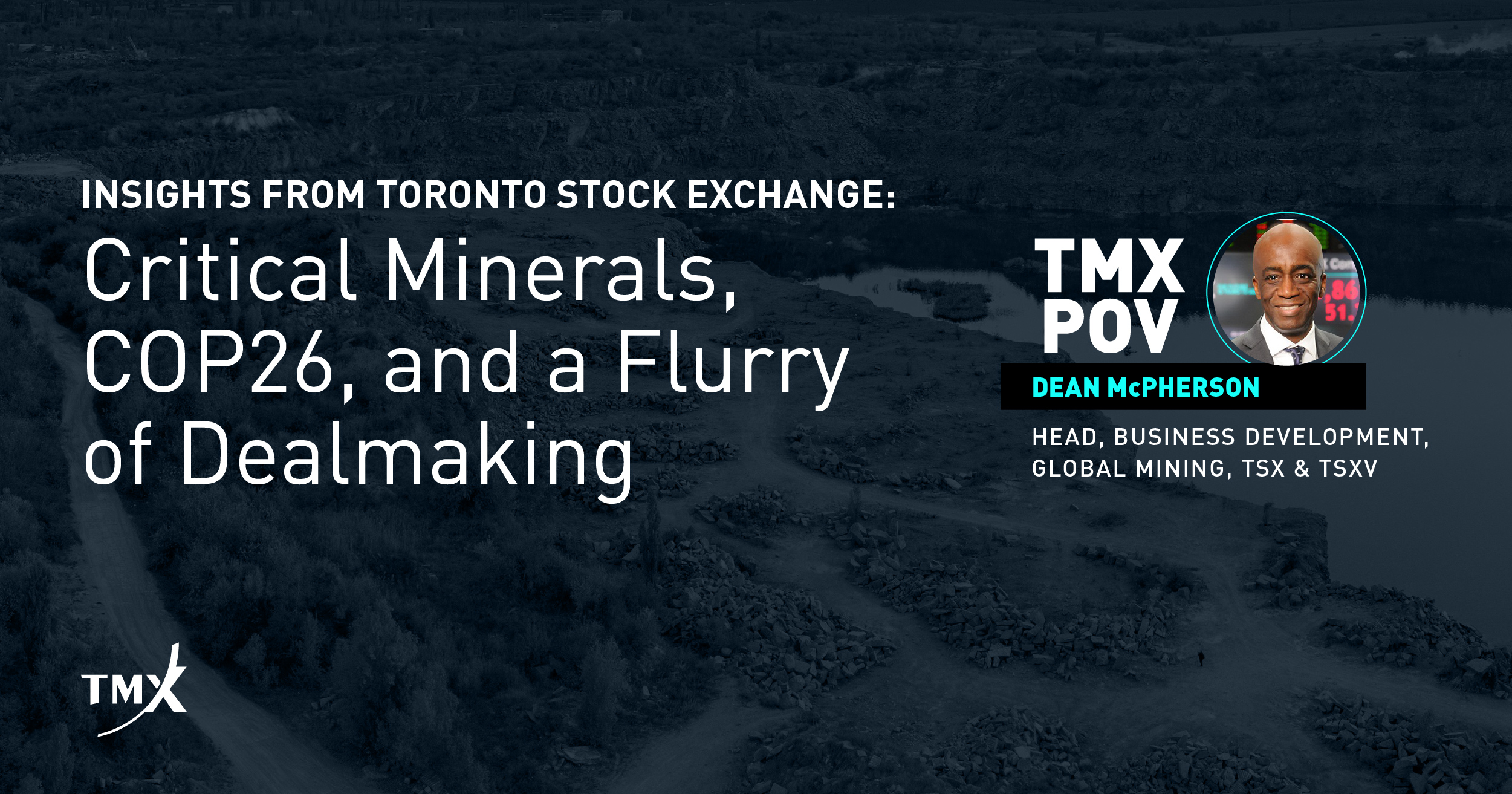 As delegates descended on Glasgow last month for the United Nations COP26 summit, there was a predictable focus on mining. Specifically, the mining of green and critical metals that will be required to meet the anticipated demand increase in order to decarbonise the transportation sector, amongst others. Contributing to around 20% of global emissions, transportation is a key pillar of the COP26 strategy to achieve net zero by the middle of the century and to keep 1.5° C of global warming within reach.
Global electric vehicle sales surged to almost 600,000 in December 2020 (compared to less than 100,000 in April 2020), with 87% of sales made in either Europe or China. The Swiss multinational investment bank, UBS, predicts electric vehicles will be around 20% of global vehicle sales in 2025, and up to 50% by 2030.
Inevitably, Canada and Australia are playing increasingly important roles in the supply of the minerals required for the green transition. In June, Tesla said it expects to spend more than $1 billion a year on battery raw materials from Australia given the country's reliable mining industry and responsible production practices. Tesla already sources three quarters of its lithium feedstock from Australia and over a third of its nickel, according to Robyn Denholm, Chairman of the US carmaker. And in September, Australia's federal government announced the establishment of a A$2 billion loan facility to stimulate the development of critical minerals projects in the country. Canada and the US federal governments have also announced strategy plans for critical minerals.
In the corporate world, two Australian lithium miners, Orocobre and Galaxy Resources, announced a $4 billion merger in April to create the fifth-largest lithium miner in the world by value. And we see M&A activity picking up in Canada as well, with China continuing to drive the pace. Zijin Mining Group is acquiring Neo Lithium Corp, an Argentina-focussed lithium company, for almost C$1 billion. The deal follows Chinese battery maker Contemporary Amperex Technology Co., Limited's bid for Canada's Millennial Lithium Corp for C$377 million; a bid that was recently bettered by Toronto Stock Exchange (TSX)-listed Lithium Americas.
There is little denying China has been smart around acquiring global interests in critical minerals including battery metals. Large miners were perhaps overly timid with their M&A ambitions and that left the door open for China to move ahead to secure key strategic mineral resources for the new energy market.
But suppliers and buys are now beginning to respond by moving more aggressively in acquiring assets. An example of this is the recent acquisition by South Africa-based Sibanye-Stillwater of two nickel and copper mines in Brazil from private equity firm Appian Capital Advisory in a $1 billion deal that boosts the company's growing battery materials portfolio. The acquisition of Atlantic Nickel and Mineração Vale Verde from Appian is Sibanye's fourth battery metal deal this year and follows its acquisition in September of a 50% stake in Ioneer Ltd's lithium-boron project in Nevada for $490 million.
In other examples, BHP is locked in a bidding war with Andrew Forrest, an Australian mining businessman, for a nickel project in Canada owned by Noront Resources, and South32 has bid more than $2 billion for a 45% stake in Sierra Gorda, a copper project in Chile. I have little doubt that more miners are likely to turn acquisitive as they try to increase their exposure to energy transition minerals.
Rare earth elements are another area where we see increasing signs of activity. London-listed Hochschild Mining recently announced its intention to spin-out Aclara Resources via an IPO on TSX. Aclara is a unique heavy rare earth project, as there are very few of its kind outside China. It contains dysprosium and terbium, key heavy rare earth elements used in high performance magnets, which are found in EVs, wind turbines, drones, planes, and home appliances. Set to begin production in 2024, Aclara believes its operations will account for about 2% of global dysprosium production, or 28% of supply outside of China and Myanmar.
We are delighted that Hochschild chose TSX as the optimal listing destination for Aclara. It will join nearly 300 critical minerals focused mining companies on TSX and TSX Venture Exchange (TSXV). At TSX, we have a long history and understanding of critical metals; and indeed the broader cleantech supply chain; through the many projects that have been funded through our markets. Critical metals focused mining companies have raised more than a quarter of total mining equity capital on our markets in 2021.
Regardless of the commitments made at COP26, it seems inevitable that demand for critical minerals will accelerate significantly from here. The risk of oversupply – as we have seen most notably in lithium markets – may persist in the near-term but, if COP26-related targets are to be met, the more likely scenario is one in which demand will outstrip supply by quite some distance. Wood Mackenzie estimates that even a 2° C global warming pathway will require EVs to account for fully three quarters of all car sales by the end of the next decade. That level of demand will require substantial new investment in critical mineral mining projects and will undoubtedly see continued M&A activity as miners and end users strive to secure supply. I am excited by this future and the pivotal role TSX, TSXV and our mining issuers are playing in it.
About the author:
Dean McPherson is head of global mining for Toronto Stock Exchange and TSX Venture Exchange. He is responsible for the development and execution of the global strategy for attracting new listings in the mining sector to the Exchanges. Previously, he worked as an investment banker. Before joining the capital markets, he worked as a civil engineer, managing capital projects for Alcoa's bauxite/alumina operations in Jamaica and Fluor in Canada. In addition to an undergraduate honors degree in civil engineering, he earned an MBA from the Schulich School of Business and is a CFA Charterholder.
---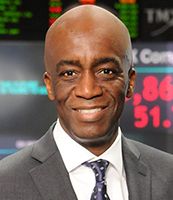 ---
Copyright © 2021 TSX Inc. All rights reserved. Do not copy, distribute, sell or modify this document without TSX Inc.'s prior written consent. This information is provided for information purposes only. Neither TMX Group Limited nor any of its affiliated companies guarantees the completeness of the information contained in this publication, and we are not responsible for any errors or omissions in or your use of, or reliance on, the information. This publication is not intended to provide legal, accounting, tax, investment, financial or other advice and should not be relied upon for such advice. The information provided is not an invitation to purchase securities listed on Toronto Stock Exchange and/or TSX Venture Exchange. TMX Group and its affiliated companies do not endorse or recommend any securities referenced in this publication. TMX, the TMX design, The Future is Yours to See., Toronto Stock Exchange, TSX, TSX Venture Exchange, TSXV and Voir le futur. Réaliser l'avenir. are the trademarks of TSX Inc. All other trademarks used in this document are the property of their respective owners.