TMX POV - From Canada to the World: Montréal Exchange Extends Trading Hours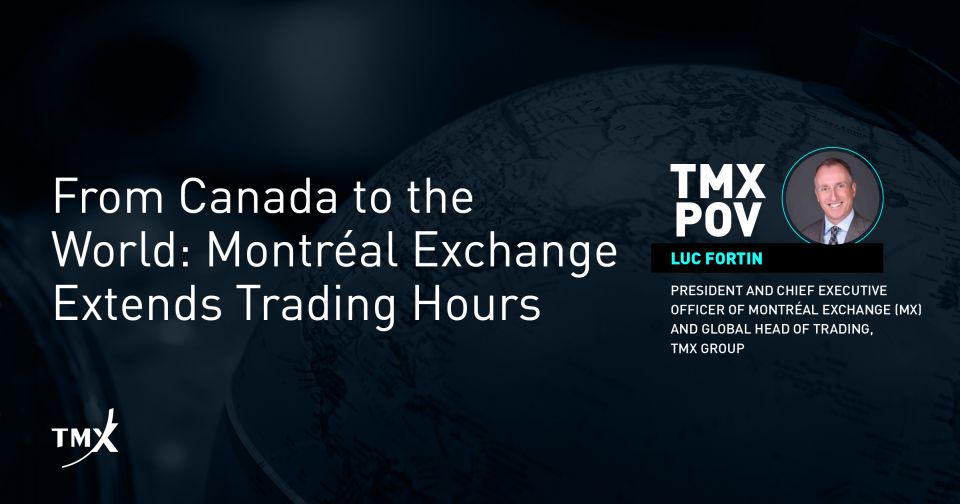 Capital markets have been global for the longest time, but international investors are seeking new opportunities to deploy capital across diverse geographies, asset classes and financial instruments. In a period of relentless change and a multitude of options, investors need to quickly develop a clear understanding of a financial market's value proposition relative to their portfolio investment objectives.
Montréal Exchange has an important and storied legacy in Canadian capital markets, ideally positioned to advocate for Canada as a preferred destination for global investors searching for investable assets.
Why Global Investors Should Consider Canada
Large Canadian banks, pension funds like CPP Investment and technology companies like Shopify have found success outside of North America, creating a template for successive Canadian companies looking for export markets. This has also created an opportunity for investors in those global markets to gain exposure to Canadian markets.
Historically, Canada has hovered between 2.5% to 3.5% of MSCI indices because it has been viewed as a commodity rich economy. But, in the last 10-15 years the Canadian economy has become broadly diversified. This is reflected in the number of new stock listings each year, with technology, clean technology, financial services, life sciences and consumer products gradually exceeding the number of new mining issuers. As of July 31, 2021, 61% of listed issuers on Toronto Stock Exchange and TSX Venture Exchange come from sectors other than from the mining or oil and gas sectors.
The first step in attracting investor interest is to shift the traditional mindset and proactively reach out to global investors where they are and on their terms. The second is to build a visible presence around the world, creating opportunities for discussion on how Canada's reputation as a G7 country with an advanced, skills-based and growth-oriented economy and central bank monetary policies can be of benefit to them.
Innovating the Canadian Derivatives Trading Experience
In September 2021, Montréal Exchange completed the next phase of its globalization strategy by extending trading to better support international investors in Asia Pacific. With trading open for 20.5 hours, investors with existing exposure to Canadian markets no longer have to wait to hedge risk. They can execute cross-market trading strategies and make swift changes to duration profiles during local time.
Montréal Exchange is focused on innovation and continuous improvement to support the evolving demands of investors, drive sustained market participation and increase liquidity over the long term. This has meant investing in fit-for-purpose technology platforms, growing our product suite to create opportunities along the yield curve as well as providing exposure to some of Canada's largest public companies through equity derivatives.
We know from speaking to our clients that there is sustained interest in Canadian markets among international investors. This is supported by analysis from Statistics Canada, which shows that foreign investor demand for Canadian debt and securities has remained strong despite the pandemic and net inflows in May 2021 increased to their second-highest level as compared to the same time last year.
In our discussions with investors in the Asia Pacific region, we know the proportion of investable dollars is greater than the number of investable assets available in their domestic markets. This gap provides an opportunity for pension funds and other investors to potentially gain exposure to Montreal Exchange's range of products, whether it's for hedging using short-term interest rate products or accessing Canadian equity index futures, and much more.
By extending Montréal Exchange's trading hours to cover all of the global financial centers, we are now in a more favourable position to meet this untapped demand for Canadian listed derivatives. This will also provide added benefits for our clients globally, whether they are Futures Commission Merchants or institutional investors, such as portfolio diversification, risk management, and the ability to execute relative value trading opportunities across major markets.
---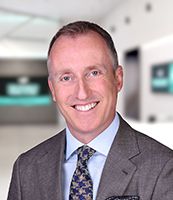 President & Chief Executive Officer,
Montréal Exchange
Follow Luc on
LinkedIn
---
Copyright © 2021 Bourse de Montréal Inc. All rights reserved. Do not copy, distribute, sell or modify this document without Bourse de Montréal Inc.'s prior written consent. This article is provided for information purposes only. Neither TMX Group Limited nor any of its affiliated companies guarantees the completeness of the information contained in this article, and we are not responsible for any errors or omissions in or your use of, or reliance on, the information. This article is not intended to provide legal, accounting, tax, investment, financial or other advice and should not be relied upon for such advice. The information provided is not an invitation to purchase securities listed on Montréal Exchange, Toronto Stock Exchange and/or TSX Venture Exchange. TMX Group and its affiliated companies do not endorse or recommend any securities referenced in this publication. Montréal Exchange and MX are the trademarks of Bourse de Montréal Inc. TMX, the TMX design, Toronto Stock Exchange, TSX, TSX Venture Exchange, TSXV, The Future is Yours to See., and Voir le futur. Réaliser l'avenir. are the trademarks of TSX Inc. and are used under license.