TMX POV - Sustainability: An Opportunity for Small and Mid-Capitalization Companies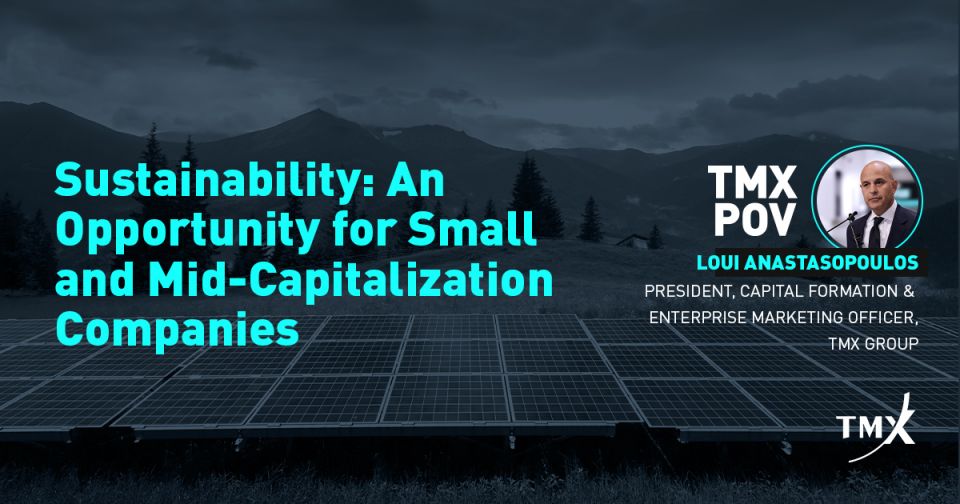 Our daily news seems to be brimming with a growing number of accounts of social injustices, health and safety concerns, and climate-related calamities that have direct and indirect impacts on companies and communities. Against this backdrop, it is not surprising that company stakeholders (including shareholders, lenders, customers, employees, and government agencies) are increasingly demanding transparency on environmental, social and governance (ESG) assessments, strategies and commitments.
With this heightened attention on the actions and management of companies, it is time for all listed companies - and in particular mid- and small-capitalization companies - to see ESG reporting as an opportunity, rather than a burden. As we have seen through Larry Fink's 2021 letter to CEOs, investors and stakeholders are looking for companies to provide disclosure of ESG metrics and related plans, they are also looking for companies to provide solutions and changes for a better tomorrow - plans and a vision that represent long-term sustainability and provide for a more equitable society.
Why is it important that companies make sustainability a priority? We see companies that can articulate their transition to long-term sustainability benefit from a lower cost of capital, improved performance, and greater resiliency.1
Small- and mid-cap companies may not necessarily have the most robust ESG tracking and disclosure practices, but smaller companies with simple operations have a unique opportunity to move the needle quickly on these issues. Those unencumbered by heavy infrastructure, large numbers of employees, or operations in multi-jurisdictional regimes may, in fact, be better able to transition to sustainable business strategies.
However, the task of delivering ESG-related transparency is not straightforward given the lack of a single global reporting standard or framework, multiple audiences to satisfy, and a variety of ways to deliver the communication.
Acknowledging the challenge our issuers face, we have been focused on providing support to our listed companies. Last year, for example, we launched ESG 101, a centralized website for issuers to find resources and content from TMX Group as well as consultants, service providers and standard-setters. We also partnered with CPA Canada to update our Primer for Environmental and Social Disclosure, providing practical steps for ESG materiality assessments and their disclosure. Additionally, we expanded our Growth Accelerator education program with a module on ESG disclosure for issuers to obtain one-on-one guidance on best practices.
We are also proud to have just announced a strategic alliance with IHS Markit to deliver the IHS Markit ESG Reporting Repository™ to issuers, providing issuers with flexible reporting mechanisms and enhanced distribution channels for their reported ESG information. This latest initiative is aimed at lowering barriers to ESG reporting and supporting the amplification of ESG information domestically and abroad.
Helping our issuers of all sizes - from young, entrepreneurial businesses to large, multinational companies - access capital and address the challenges of ESG reporting in a complex and risk-adjusted world is a core objective of both Toronto Stock Exchange and TSX Venture Exchange.
Our goal is to support our issuers, of all sizes, in discovering for themselves how important it is to start their ESG risk and opportunity assessments and create some level of disclosure for the growing number of investors and stakeholders seeking this information. It represents an opportunity to build more visibility, engagement and investor interest; and it allows companies to identify operational innovations, find efficiencies and uncover risks.
George Serafeim, Robert G. Eccles, Mary Johnstone-Louis, Colin Mayer, Judith C. Stroehle, Simon MacMahon
Harvard Business Review, Sep 2020, product # R2005B-PDF-ENG
---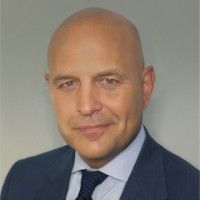 President, Capital Formation & Enterprise Marketing Officer
TMX Group
Follow Loui on
LinkedIn
---
Copyright © 2021 TSX Inc. All rights reserved. Do not copy, distribute, sell or modify this document without TSX Inc.'s prior written consent. This information is provided for information purposes only. Neither TMX Group Limited nor any of its affiliated companies guarantees the completeness of the information contained in this publication, and we are not responsible for any errors or omissions in or your use of, or reliance on, the information. This publication is not intended to provide legal, accounting, tax, investment, financial or other advice and should not be relied upon for such advice. The information provided is not an invitation to purchase securities listed on Toronto Stock Exchange and/or TSX Venture Exchange. TMX Group and its affiliated companies do not endorse or recommend any securities referenced in this publication. TMX, the TMX design, The Future is Yours to See., and Voir le futur. Réaliser l'avenir. are the trademarks of TSX Inc.
The S&P/TSX Composite Index (the "Index") is the product of S&P Dow Jones Indices LLC or its affiliates ("SPDJI") and TSX Inc. ("TSX"). Standard & Poor's® and S&P® are registered trademarks of Standard & Poor's Financial Services LLC ("S&P"); Dow Jones® is a registered trademark of Dow Jones Trademark Holdings LLC ("Dow Jones"); and TSX® is a registered trademark of TSX. SPDJI, Dow Jones, S&P, their respective affiliates and TSX do not sponsor, endorse, sell or promote any products based on the Index and none of such parties make any representation regarding the advisability of investing in such product(s) nor do they have any liability for any errors, omissions or interruptions of the Index or any data related thereto.