TMX POV - Just the Beginning: My Move from Sell-Side to an Exchange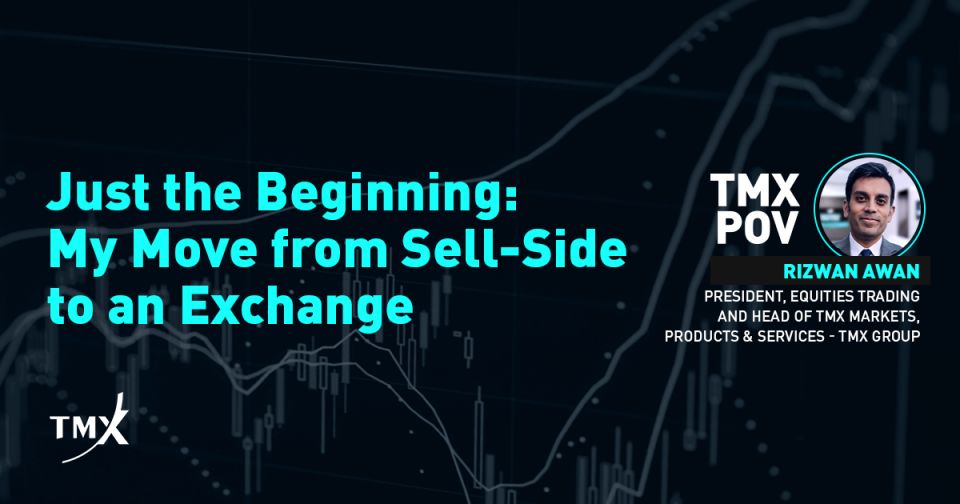 It has been a few months since I started at TMX and I wanted to take a moment to reflect back and share my experience in the transition from the sell-side to an exchange. I also wanted to take the opportunity to provide an update on a number of exciting initiatives in-flight and highlight the thought process behind our approach to designing products.
Prior to TMX, I spent almost two decades on the sell-side in various technology oriented trading roles, most recently running BMO Capital Markets' Program, Index, and Electronic trading businesses. The nature of those roles meant direct engagement with industry stakeholders including marketplace operators, industry associations, and regulators. Little did I know that these experiences would be a perfect training ground for what was to come.
TMX Markets metamorphosis: "Highly aligned, loosely coupled"
It was a fortuitous introduction to Luc Fortin, President & CEO of Montreal Exchange and Global Head of Trading, TMX Group, last fall that set the wheels in motion for the next chapter in my career. Luc articulated his vision to transform TMX Markets from a collection of business silos to take on a more functional approach, allowing TMX to service clients holistically and in a more coordinated manner across all asset classes congruent with their own operations. Luc tapped me for the dual role of Head of TMX Markets, Products & Services across all asset classes, as well as President of Equities Trading, accountable for Canada's premiere trading venues Toronto Stock Exchange (TSX), TSX Venture Exchange (TSXV), and TSX Alpha Exchange. This "highly aligned, loosely coupled" approach allowed TMX to organize the business by function while maintaining the underlying business units intact.
On paper, the role was an ideal fit and a dream job where I would have the privilege of overseeing the future of Canadian markets. However, having operated on the sell-side, TMX was viewed as a sleepy giant - a generalization from a bygone era when the exchange operated as a utility. That myth was quickly dispelled after spending time with Luc and John McKenzie (who himself had recently taken on the role of CEO for TMX Group, navigating through the pandemic). The passion, energy, and drive was palpable and I was sold on the opportunity to be able to make a difference. Looking back, there is zero buyer's remorse and the teams I have the privilege of leading are driven, passionate and experts in their respective fields. Equally impressive was a wonderful collegial and supportive culture that kept the pandemic doldrums at bay. This was a workforce that not only survived, but thrived during the global pandemic.
As Luc implemented his vision, the reorg also created two other functional units with Todd Hargarten leading Client Relationship Management and Sabia Chicoine heading up Operations - both key partners whom I've come to trust and rely on and who make my job that much easier. In addition, Kevin Sampson, my predecessor in Equities Trading, moved on to become President of CDS leaving behind a well oiled franchise and George Kormas was recently announced President of CDCC. The key pieces are now in place allowing us to move forward with building out the TMX Markets business.
TMX freshman
As for me, coming into TMX taking on a new role was an eye opening experience. Similar to a freshman on their first day, I was astounded by just how many different businesses TMX operated - the majority of these were a passing curiosity in my previous roles due to its specialized nature. TMX is truly a conglomerate of businesses that are the underpinning of our financial ecosystem; from capital formation, marketplaces across equities, derivatives, fixed income, energy products, clearing houses, issuer services, data and analytics - the list goes on and on. I have been a kid in the proverbial candy store, marvelling at the opportunities at hand, new asset classes to explore!
Perhaps the biggest adjustment for me was to think through a longer, more strategic lens as designing and building new products required thorough planning and foresight. Not only do the teams have to be creative, solve for client needs, and provide value-added products, they have to do it all in a highly regulated and complex technology environment while balancing a world of competing priorities. Luckily, my career on the sell-side had prepared me well for this challenge, having built new products and services to stay abreast of the evolving trading landscape - I just had to scale it up to a whole new level at TMX.
As with most businesses, ours is also a business that is increasingly technology–driven. I often half-joke that we are a technology shop that happens to run marketplaces. In order to remain at the forefront, we need to make the right investments in technology, bolster our capabilities, and ensure we have the right skill sets to succeed. We need to continue to pay close attention to any new technologies with the potential to be disruptive. All that to say, technology is not only an enabler, it is core to our business.
Another observation I can share is the sheer scale of operations at TMX - it can only truly be appreciated from the inside. A seemingly small adjustment, that is so painfully simple to an outsider, can take months of meticulous planning in a highly regulated, complex environment - a fact I have come to appreciate as we design our roadmap, laying down tracks months in advance.
Priorities
On the positive side, the long term planning gives us a transparent view on what can be expected, some of which you have no doubt heard about. While there are dozens of projects in-flight, I would be remiss if I didn't share a few of the broader initiatives that we are excited to deliver in 2021:
Extending Montreal Exchange's (MX) trading hours to 20.5 hours to cover Asia trading hours, bringing in additional liquidity to our markets and providing our clients with tools to manage their risk around the clock.
Modernizing the TSX MOCⓇ (market on close) facility later this year. The project has been a hallmark for industry collaboration, with stakeholders coming together to design a more transparent closing mechanism to improve closing price discovery. We look forward to using a similar consultative approach with the industry for our future initiatives.
Building out new dark trading capabilities as part of our TSX DRK™ initiative. We recently published an RFC for Conditional Orders helping foster more meaningful liquidity in the dark and look forward to bringing new, innovative functionality in this evolving space.
Looking ahead
As I think of 2022 and beyond, improving execution quality while promoting fair and efficient markets, remains a top guiding principle for our product design. We want to be mindful in our approach as we focus on broad themes that solve real problems and not just tactical adjustments. As the primary gatekeepers for our markets, we want to promote data-driven, transparent decisions in our design process and take a balanced approach in building industry driven solutions.
It's an exciting time for TMX and we are ambitious. We are committed to expanding asset classes. We have already dabbled indirectly in cryptocurrency, being the first exchange to list crypto exchange traded funds (ETFs) and are looking beyond. We are looking at environmental initiatives, such as carbon markets. We have undertaken a derivatives market structure reform to add liquidity to our markets. We are exploring new services that can leverage our central position as the gatekeeper for Canadian markets. We want to be the trusted market operator of choice across all the asset classes. And we want to bring the world to Canada.
Central to all this are our clients. We have to balance the needs of our stakeholders and shareholders, sometimes making tough choices to thread the needle. I am confident that if we continue to solve real problems for our stakeholders, then we will get rewarded for our efforts over the long run. That's what will drive our business forward. That's what will allow TMX to take the next steps. Together, we have the opportunity to shape the future of our markets and I am looking forward to the challenge.
---
President, Equities Trading and
Head of TMX Markets
Products & Services
Follow Rizwan on
LinkedIn
---
Copyright © 2021 TSX Inc. All rights reserved. Do not copy, distribute, sell or modify this document without TSX Inc.'s prior written consent. This information is provided for information purposes only. Neither TMX Group Limited nor any of its affiliated companies guarantees the completeness of the information contained in this publication, and we are not responsible for any errors or omissions in or your use of, or reliance on, the information. This publication is not intended to provide legal, accounting, tax, investment, financial or other advice and should not be relied upon for such advice. The information provided is not an invitation to purchase securities listed on Toronto Stock Exchange and/or TSX Venture Exchange. TMX Group and its affiliated companies do not endorse or recommend any securities referenced in this publication. TMX, the TMX design, The Future is Yours to See., and Voir le futur. Réaliser l'avenir. are the trademarks of TSX Inc.
The S&P/TSX Composite Index (the "Index") is the product of S&P Dow Jones Indices LLC or its affiliates ("SPDJI") and TSX Inc. ("TSX"). Standard & Poor's® and S&P® are registered trademarks of Standard & Poor's Financial Services LLC ("S&P"); Dow Jones® is a registered trademark of Dow Jones Trademark Holdings LLC ("Dow Jones"); and TSX® is a registered trademark of TSX. SPDJI, Dow Jones, S&P, their respective affiliates and TSX do not sponsor, endorse, sell or promote any products based on the Index and none of such parties make any representation regarding the advisability of investing in such product(s) nor do they have any liability for any errors, omissions or interruptions of the Index or any data related thereto.