TMX POV - Women Making History in the Public Markets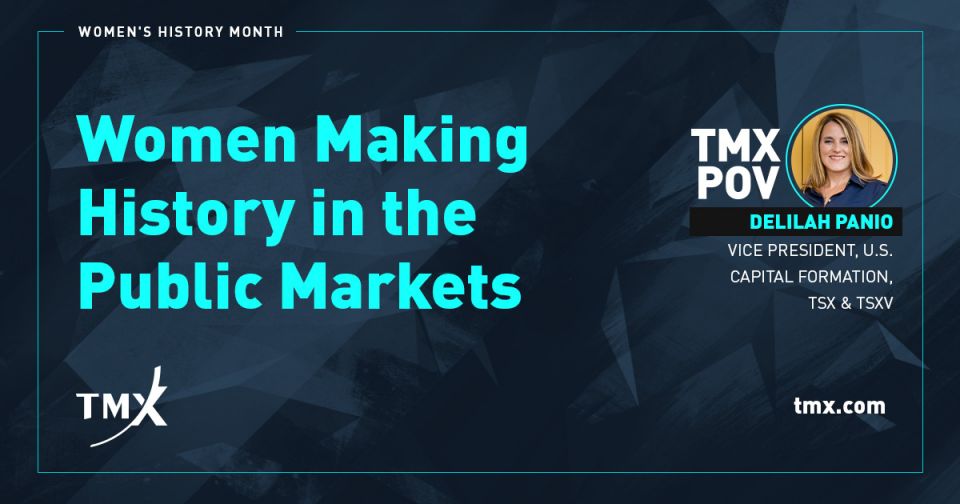 As we come to the end of Women's History Month, let's acknowledge some history-making women CEOs in the Canadian and U.S. public markets.
In October 2020, Shahrzad Rafati, founder and CEO, BBTV (TSX:BBTV), brought the media company public through an initial public offering (IPO) on Toronto Stock Exchange (TSX) raising C$172 million -- one of the top 10 tech TSX listings of all time and the first IPO on TSX with a sole female founder and CEO in the technology sector. In December 2020, Kathy Casey became the latest female CEO of a TSX Venture Exchange (TSXV) company when Arizona-based PureK Holdings (TSXV:PKAN) listed through a Capital Pool CompanyⓇ - the Exchange's most popular go-public vehicle.
In February 2021, Whitney Wolfe Herd, founder and CEO of Bumble, was the youngest woman to bring a company public in the U.S. raising US$2.2 billion in its IPO. And in the robust sector of U.S. special purpose acquisition corporations (SPACs), Queen's Gambit Growth Capital, a female-led SPAC began trading on Nasdaq in January 2021, followed up by Queen's Gambit Growth Capital II with an all-female team formed by VC Victoria Grace and Agility Logistics, which filed in February 2021. On March 19th, Athena Technology Acquisition Corp rang the bell at the New York Stock Exchange (NYSE) as the first all-women SPAC to IPO on the NYSE.
But is this just the tip of the iceberg of what is possible for women-led companies and the money available in the public markets?
Consider this… in Canada last year, TSX and TSXV companies raised C$42.8B in Canada but just C$488M was raised by the 90+ women-led TSX and TSXV companies… a tiny 1% of the total raised.
This is despite several data points showing that female-led public companies tend to perform very well.
The average 2020 return for TSX women-led companies was 69% compared to the S&P/TSX Composite Index* 2020 return of 19%. On TSXV, the women-led companies had an average return of 76% compared to the one-year return of the S&P/TSX Venture Composite Index* of 52%. (Sources: S&P and Capital IQ)
In the results of an S&P Global study of 5,825 new public company executive appointments, of which 578 were women, it was found that "firms with female CEOs and CFOs have produced superior stock price performance, compared to the market average. In the 24 months post-appointment, female CEOs saw a 20% increase in stock price momentum and female CFOs saw a 6% increase in profitability and 8% larger stock returns. These results are economically and statistically significant." And that "firms with a high gender diversity on their board of directors were more profitable and larger than firms with low gender diversity." (Source: "When Women Lead, Firms Win", S&P Global, October 16, 2019)
In January 2020, Goldman Sachs announced at the World Economic Forum in Davos that it would no longer take any company public unless it has at least one "diverse" board member. "I look back at IPOs over the last four years and the performance of IPOs, [when] it's been a woman on the board, in the US is significantly better than the performance of IPOs where there hasn't been a woman on the board," CEO David Solomon said. (Source: "Goldman Sachs will no longer do IPOs for companies with all-male boards", New York Post)
There are many reasons why women aren't accessing the public markets at a higher rate but a primary one to consider is the ability to access the critical early-stage growth capital… whether from the necessary friends and family round if you don't have access to those networks of wealthy individuals, or the venture capital rounds because of gender bias (unconscious and conscious) to get to the stage that the company is large enough to go public.
Vicki Saunders, Founder and CEO of SheEO, is looking to change that by disrupting the early-stage funding ecosystem. SheEO is a unique funding platform in which women contribute C$1100 into a fund that then provides no-interest loans to women in that region. In her thought leadership piece for the 2021 TSX Venture 50Ⓡ ranking, "Reimagining Funding Models for Female-Led Ventures," when contemplating what can be done to increase the number of women getting funded particularly in the public markets, Vicki said, "I think the answer lies in new approaches - in reimagining the relationship between investors and ventures by creating new vehicles for funding and creating new pathways to go beyond transactions. I think the idea of public venture capital funding is really exciting because you can find your people and build up a loyal following when you have a business that resonates and excites people."
Let's hope that pioneering women in the public markets, such as Shahrzad and Whitney, continue to pave the way for more women-led companies to access the capital they need to bring their products and services to market for years to come while generating significant value and returns to their founders, early-stage investors, and all stakeholders.
Congratulations ladies… and hopefully many more successes to come!
TMX Celebrated Women's History Month
- For the 7th consecutive year, TMX Group participated in the Ring the Bell for Gender Equality Initiative alongside over 100 exchanges to foster greater gender equality and highlight the benefits of a diverse and inclusive workplace.
- TMX Group brought together leaders from Canada's financial industry to host a panel around this year's International Women's Day (IWD) theme, entitled: Women in Leadership - Achieving an Equal Future in a COVID-19 World.
- As part of IWD 2021, the C-Suite at the Open series interviewed female CEOs and leaders of TSX & TSXV listed companies, including:
Linda Hassenfratz, Chief Executive Officer, Linamar Corporation (TSX:LNR)
Rania Llewellyn, President and Chief Executive Officer, Laurentian Bank of Canada (TSX:LB)
Jennifer Twiner McCarron, Chief Executive Officer, Thunderbird Entertainment Group Inc. (TSXV:TBRD)
Madeleine Paquin, President and Chief Executive Officer, Logistec Corporation (TSX:LGT)
Meghan Roach, Chief Executive Officer, Roots Corporation (TSX:ROOT)
Alexandra Woodyer Sherron, President and Chief Executive Officer, Empress Royalty Corp: (TSXV:EMPR)
- A Q&A with TSX Trust President and CEO Claire Johnson who talked about how the pandemic has impacted her leadership style and the advice she shares with other women.
- The TSX Company Services team sponsored a Women In Leadership event in partnership with IDG, GPFO and Market One Media Group. It was an invitation only event for European Family Office Investors. Tanya Rowntree, Global Head of Client Success, TSX and TSXV, gave the keynote address and five issuers presented.
---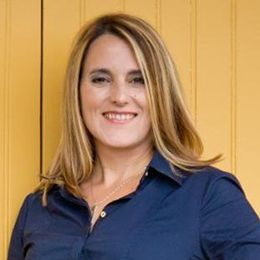 Vice President, U.S. Capital Formation, Toronto Stock Exchange and TSX Venture Exchange
Follow Delilah on
LinkedIn
---
Copyright © 2021 TSX Inc. All rights reserved. Do not copy, distribute, sell or modify this document without TSX Inc.'s prior written consent. This information is provided for information purposes only. Neither TMX Group Limited nor any of its affiliated companies guarantees the completeness of the information contained in this publication, and we are not responsible for any errors or omissions in or your use of, or reliance on, the information. This publication is not intended to provide legal, accounting, tax, investment, financial or other advice and should not be relied upon for such advice. The information provided is not an invitation to purchase securities listed on Toronto Stock Exchange and/or TSX Venture Exchange. TMX Group and its affiliated companies do not endorse or recommend any securities referenced in this publication. Capital Pool Company, TMX, the TMX design, The Future is Yours to See., Toronto Stock Exchange, TSX, TSX Venture 50, TSX Venture Exchange, TSXV and Voir le futur. Réaliser l'avenir. are the trademarks of TSX Inc.
* S&P/TSX Composite Index and the S&P/TSX Venture Composite Index (the "Indices") are the products of S&P Dow Jones Indices LLC or its affiliates ("SPDJI") and TSX Inc. ("TSX"). Standard & Poor's® and S&P® are registered trademarks of Standard & Poor's Financial Services LLC ("S&P"); Dow Jones® is a registered trademark of Dow Jones Trademark Holdings LLC ("Dow Jones"); and TSX® is a registered trademark of TSX. SPDJI, Dow Jones, S&P, their respective affiliates and TSX do not sponsor, endorse, sell or promote any products based on the Indices and none of such parties make any representation regarding the advisability of investing in such product(s) nor do they have any liability for any errors, omissions or interruptions of the Indices or any data related thereto.