TMX POV - Green Supply Chain for a Clean Energy Transition: An Opportunity for Latam Mining Companies and Entrepreneurs to Move Into a Low Carbon Future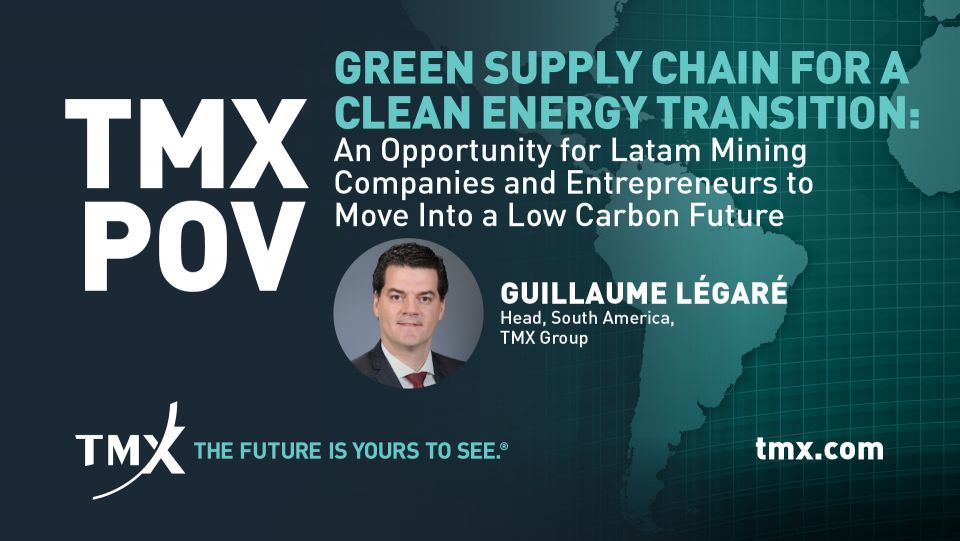 According to a new World Bank Group report published on May 11th, Minerals for Climate Change: The Mineral Intensity of the Clean Energy Transition, the production of minerals, such as graphite, lithium and cobalt could increase by nearly 500% by 2050 to meet the growing demand for clean energy technologies.
The clean energy transition will be significantly mineral intensive. In that report, The World Bank Group estimates that over 3 billion tons of minerals and metals will be needed to develop cleaner energy technologies and deploy wind, solar and geothermal power, as well as energy storage. Considering how much aluminum, copper, silver, zinc, and rare earths are required in the renewable energy transition, it raises questions around the potential shortage of certain critical metals – especially as we're already seeing increasing demand from infrastructure projects and electric vehicles (EVs).
While the growing demand for minerals and metals provides economic opportunities for resource-rich developing countries, significant challenges will likely emerge if the climate-driven clean energy transition is not managed responsibly and sustainably.
Challenges and Opportunities in Latin America
When we enter the post-COVID-19 recovery period, Latin America (Latam) will have the opportunity to play a key role in the world's low-carbon future. After all, Latam's mineral potential is nothing short of impressive. The region is rich in base and precious metals, and has some of the largest reserves of critical metals necessary for the clean energy revolution. In this context, if Latam is to seize this opportunity and deliver on these global needs, it's imperative that we see more local management teams positioning their companies for future growth. Latam mining countries must develop their entrepreneurial capacity to move up the value chain.
As part of its focus on the future, the mining sector must be managed in a way that is cognizant of its environmental footprint. The sustainable extraction and processing of minerals and metals to secure supply for clean energy technologies needs to minimize the social, environmental, and climate footprint throughout the value chain.
In addition, sustainable finance is emerging as the new standard for mining companies to maintain access to capital. Institutional investors are increasingly looking to incorporate Environmental, Social and Governance (ESG) into their investment analysis and decision-making processes. The proper level of disclosure around ESG issues and the availability of sustainability reports are sought by investors. In this recovery phase, the best way to facilitate investors committing any capital in Latam will be to meet the highest ESG standards achieved by well managed companies and generate sustainable results for all stakeholders.
To help our mining companies listed on Toronto Stock Exchange (TSX) and TSX Venture Exchange (TSXV) meet higher ESG standards, TMX Group has developed an ESG resource, ESG 101, to help companies navigate the complexities of ESG reporting and learn about the best practices to meet stakeholder ESG demand.
Access to Capital for Clean Energy Mineral Producers on TSX/TSXV
Latam is the most important international market for mining activity, with 23% of total mining properties from the region listed on our two markets. Currently, there are a total of 478 mining companies in Latam listed on TSX and TSXV, with 1,045 mining properties.
Our TSX and TSXV Markets support Clean Energy Mineral producers:
551 TSX/TSXV mining companies have at least 1 battery metals mine, according to data from S&P Global Market Intelligence
These companies:

represent a total market capitalization over $227 billion
operate over 3,300 battery metal properties
raised $936 million in equity capital in H1 2020 and $2.7 billion in 2019

24 have a market capitalization over $1 billion
311 (or 56%) have 50% or more of their properties mining for battery metals.

Those companies operate over 1,160 battery metal properties among them
In Latam, our markets are supporting mining companies producing key battery metals like zinc, copper, nickel and lithium.
8 Latam-headquartered mining companies on TSX/TSXV operate 20 battery metal projects.
These companies:

represent a total market capitalization over $1.7 billion
raised $4.8 million in equity capital in H1 2020 and $32.8 million in 2019

6 are majority focused on battery metals
3 are on TSX and 5 are on TSXV
| Exchange:Ticker | Company | HQ Location |
| --- | --- | --- |
| TSXV:ALT | Alturas Minerals Corp. | Peru |
| TSXV:LA | Los Andes Copper Limited | Chile |
| TSX:MARI | Marimaca Copper Corp. | Chile |
| TSXV:NLC | Neo Lithium Corp. | Argentina |
| TSX:NEXA | Nexa Resources S.A. | Brazil |
| TSXV:SCZ | Santacruz Silver Mining Ltd. | Mexico |
| TSXV:SGMA | Sigma Lithium Resources Corporation | Brazil |
| TSX:TLO | Talon Metals Corp. | Brazil |
Considering current decarbonization initiatives across the globe and EV sales projections, gearing up for exponential demand for clean energy minerals and metals would also require a huge amount of capital to fund mine development, exploration and production.
In order to access capital, the signal is clear, large institutional investors are taking ESG criteria into consideration. As we move into the low carbon future, to maintain access to capital, the Latam mining industry must take this shift seriously.
TSX and TSXV can play an important role to help companies access capital. We are seeing important players emerging on our markets. The world is watching how Latam mining companies and entrepreneurs will embrace this challenge and opportunity.
In early 2019, TSX and TSXV made a strategic decision to establish a full-time presence in Lima to explore new opportunities across Latam. We believe the current context will be favorable to local management teams and projects to emerge in this clean energy transition to access our unique two-tiered market ecosystem.
---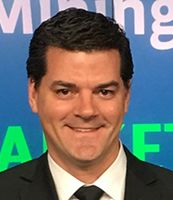 ---
Source: TSX/TSXV Market Intelligence Group and S&P Global Market Intelligence.

This article is provided for information purposes only and is not intended to provide any type of advice. This article is not an endorsement or recommendation of any specific securities in any industry nor is it an invitation to purchase securities listed on TSX Venture Exchange or Toronto Stock Exchange. Listing on TSX Venture Exchange or Toronto Stock Exchange does not guarantee the future performance of a security or an issuer.