TMX POV - Time for the Federal Government to Consider the Reintroduction of the Income Trust Structure to the Oil and Gas Industry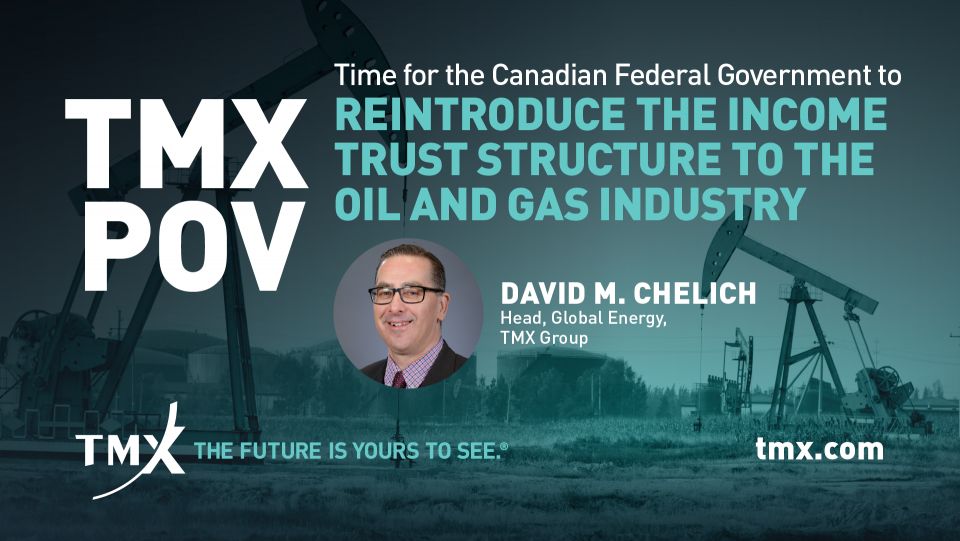 Why the Oil & Gas Income Trust Structure makes sense for Canada
A lifeline to an industry in financial crisis
For the past several years, the Canadian Oil and Gas Industry (O&G Industry) has been beset by a myriad of structural, financial and commodity pricing issues that have seriously eroded investor interest, both domestic and international. If the O&G Industry is to survive, it must find a way to bring equity investor interest back to the sector. The Oil and Gas Income Trust (O&G Trust) is one such option.
Not only would reintroducing income trusts for the O&G sector help reinvigorate an industry that has been a driving force of the Canadian economy for decades, it will help address critical environmental issues facing the country, provide a tool for Indigenous reconciliation, and may even help support senior citizens and others living on fixed incomes who rely on dividends to cover their living expenses.
The O&G Trust would be a lifeline to an iconic but struggling Canadian sector by giving smaller exploration and production companies a renewed purpose: to build and sell to the larger O&G Trusts. The O&G Trusts would also reinvigorate the entire industry by virtue of increased access to capital. Investors -- both domestic and international -- would have more confidence investing in the small and medium sized exploration and production companies knowing there is the potential for a liquidity event or exit at an accretive valuation. Having a lower cost of capital, O&G Trusts would achieve higher valuations in the public marketplace, thereby enabling accretive acquisitions of their junior and intermediate peers. By creating a vibrant market for oil and gas assets, thereby increasing lending values, O+G Trusts would also help reinvigorate the confidence of investment banks and other lenders.
An efficient capital allocation model
The O&G Trust is an efficient capital allocation model. The structure enforces capital discipline on management teams whose sole purpose is to distribute as much cash flow as possible -- without impairing the future productivity of the underlying oil and gas property -- to O&G Trust unit holders. Thus, in this "lower for longer" interest rate environment, O&G Trusts could provide attractive payouts to yield and cash flow starved investors. This applies especially to senior citizen-investors and those living on fixed incomes, who may rely on dividends to cover living expenses.
Reducing the environmental liability of the O&G sector
The O&G Trust could also aid in the reduction of the massive environmental liability created by those non-operated oil and gas assets currently sitting in the Orphan Well Association (OWA) and those mature assets that invariably have impending environmental obligations. It should be noted that when capital is scarce, environmental obligations may become a lower priority for owners. The O&G Trusts would enable companies to raise equity capital to acquire orphaned and mature properties and bring them back into production with the intent of responsibly stewarding them through to their end of life reclamation obligation. The O&G Trust could assist the federal Government, which has recently pledged $1.7B, to help clean-up of orphaned and abandoned oil and gas wells in Western Canada.
Increased tax revenue and in the transition to a cleaner economy
Bringing back the O&G Trust would also increase tax revenue for the federal Government – this is especially important considering that the federal Government is projecting a $343B deficit in 2020. Tax revenue would be greater under an O&G Trust as most of the free cash flow generated by the structure is passed along to individual investors, who in turn are taxed at higher rates than corporations.
Not only would the O&G Trust not create any tax "leakage," but rather it would be a net fiscal benefit to the Treasury. This additional tax revenue collected by the federal Government could in turn be used to finance the research, development and implementation of clean and renewable energy projects: the O&G Trust would thereby help finance Canada's transition to a cleaner economy.
More jobs for Canadians
A final potential benefit of the O&G Trust model would of course be job creation for a beleaguered industry. Particularly in a time of growing economic uncertainty and with a federal government already having (justifiably) spent hundreds of billions of dollars in support programs, a new program that creates jobs without requiring further government expenditure is a winning formula for all Canadians.
How should the O&G Trust be structured?
The following structural elements are critical to the success of the O&G Trust model:
Dedicated to companies with mature, conventional (non-oil sands) assets only: the Canadian government has repeatedly stated its desire for the Canadian energy sector to transition away from hydrocarbons and move towards cleaner forms of energy -- including renewable energy -- as quickly as possible;
"Ring fenced" around the O&G Industry: thereby giving the federal Government certainty and confidence that the Income Trust structure will not "bleed" into other industry sectors as has happened in the past;
The O&G Trust would be carved out as an exception to the Specified Investment Flow-Through Trust ("SIFT") rules, allowing it to distribute its income to its unit holders without an intervening level of taxation. Distributed income would be taxed in the hands of the unitholders;
The definition of an O&G Trust would be limited to a trust which derives in excess of 75% of its revenue from direct oil and gas production in Canada. Ancillary income (e.g. processing, transportation, services) would be limited to ensure that the benefits of the structure are targeted;
The definition would specify that to qualify for the status of an O&G Trust, the entity must spend a mandated percentage of its cash flow on remediation of assets or reduction of GHG emissions. To make the vehicle attractive, this amount (which generally is not additive to revenue) must be somewhat limited. We would suggest 5-10% of operating cash flow;
The O&G Trust structure would ensure "non-resident ownership" would not cost the federal Government revenue;
Incorporate the applicable recommendations stated in the Final Report of the Expert Panel on Sustainable Finance – Mobilizing Finance for Sustainable Growth made to the federal Government pertaining to the Canadian Oil And Gas Industry; and
Include a "Declaration Statement" which references the importance the federal Government places on policies adhering to Environment, Social and Governance (ESG) – including, but not limited to GHG / CO2 Reduction (net carbon neutral by 2050), Responsible Environmental Stewardship (water conservation, clean air emissions, land reclamation / responsible asset retirement), First Nations Reconciliation / Participation, Sustainability, Inclusivity and Diversity (Gender / Race / Religion / Sexual Orientation), Employment / Job Creation, and Transition To A Renewable Energy / Clean Energy Economy. This "Declaration Statement" would include a negotiated time frame / framework on how to implement and achieve compliance with such ESG issues.
The timing is right
Prime Minister Trudeau recently stated that he does not share the assessment of some other politicians that "oil is dead". He stressed the O&G Industry is an "essential" partner for the transition towards a cleaner economy and rejected calls for no further federal support for the struggling sector. The Prime Minister was also quoted as saying "We need the innovation, the hard work and the vision and the creativity of people working right now in the energy sector," "We need to support Albertans and other people working in the energy sector through this incredibly difficult time."
TMX Group taking the lead
TMX Group has taken the initiative and formed a working group of O&G Industry experts including E&P companies, industry associations, taxation and accounting experts, investment banks, securities lawyers, government relations specialists, buy-side firms, first nations advocates, financial institutions, and ESG specialists to produce an innovative and creative O&G Trust proposal. We believe the reintroduction of the O&G Trust would not only spur jobs but also generate lasting economic benefits for Canada. As such, the TSX is formulating an O&G Trust proposal that aligns with the federal Government's environmental, social, fiscal and economic objectives and demonstrates the O&G Industry's commitment to being an essential partner in the transition towards a cleaner economy.
---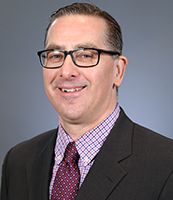 ---
This article is provided for information purposes only and is not intended to provide any type of advice. This article is not an endorsement or recommendation of any specific securities in any industry nor is it an invitation to purchase securities listed on TSX Venture Exchange or Toronto Stock Exchange. Listing on TSX Venture Exchange or Toronto Stock Exchange does not guarantee the future performance of a security or an issuer.