TMX POV - Let's stop celebrating making the playoffs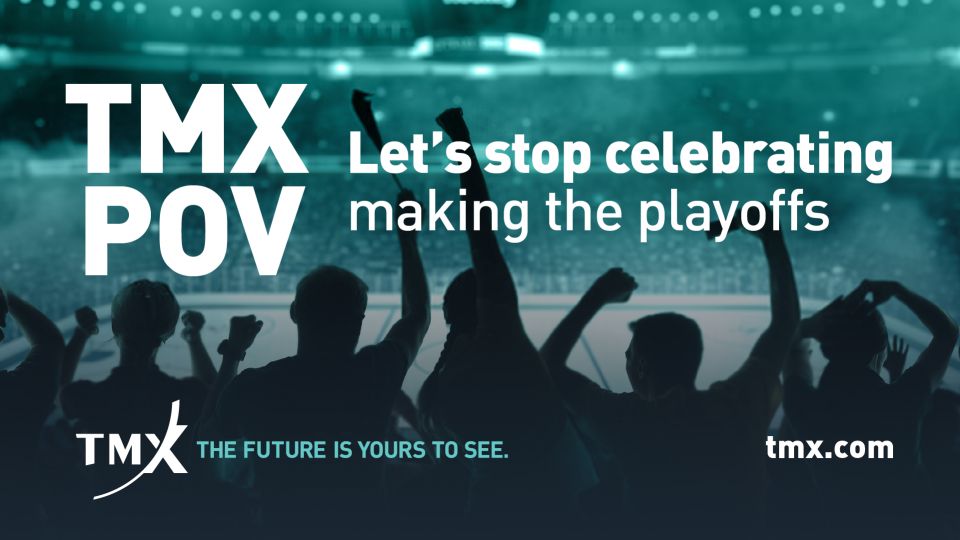 A few weeks ago, fans of the Toronto Maple Leafs went berserk with madness and excitement as the team successfully made it to Game 7 in the first round of the NHL playoffs. Maybe it's the 52-year history of misery and disappointment that led to the celebration and hysteria that came with a chance of winning a Stanley Cup. In reality, 16 out of 31 teams make the NHL playoffs, meaning it should be expected that the Maple Leafs are in the playoffs every other year. The reality is, making the playoffs is simply proving we are better than a few other teams in our conference--Toronto fans should be bitterly disappointed by anything less than a Stanley Cup championship.
So, what does this swipe at Toronto Maple Leaf fans have to do with the tech ecosystem in Canada? Well, as pointed out last week by Jonathan Ehrlich, Partner at Foundation Capital, at the C100 48Hrs in the Valley Summit, Canadian tech CEOs need to have higher ambitions.
Don't get me wrong, it's great to build a tech company in Canada and sell to a corporation for $40 million, $50 million, or even $200 million, but what Canadian tech entrepreneurs should really be trying to do is build the next Google, Amazon, or Facebook. In Canada, we have had a diverse mix of tech companies built in cities all over the country, including Shopify (Ottawa), OpenText (Waterloo), and Lightspeed (Montreal). You don't need to be in Silicon Valley to build the next Apple of the world.
The 48Hrs in the Valley program helps connect some of the most promising startups with Silicon Valley's top mentors, investors and industry executives. This year's cohort features 25 companies from a range of industries, including AI, BioTech, and SaaS. Programs like this one from C100 are key to helping mentor the next generation of Canadian tech founders and CEOs and supporting the tech ecosystem in Canada. It's worth reading up on the important work the program is doing for the Canadian community.
The C100 48Hrs in the Valley showcased a few names in tech that are establishing great products and platforms:
Lumen5 - a video creation platform powered by AI that makes it extremely easy for business and marketing teams to create video content in minutes.
SkyHive - an AI technology company that is seeking to deepen companies' understanding of labour markets, workforces, and skills, enabling new ways of acquiring, developing, and engaging talent. Founder and CEO Sean Hinton explained earlier this year how this technology will help transition people from the manufacturing sector to other sectors and address the rising labour shortage.
SnapTravel - gives people access to great hotel deals over SMS and Facebook Messenger, without having to download an app. The company closed a Series A US$21 million financing late last year from investors including Telstra Ventures and NBA player Steph Curry.
So all that's to say, let's strive for more. While it may be a long shot that the Toronto Maple Leafs will win the Stanley Cup (that's 52 years of history talking), there is still hope the Raptors will clinch the NBA title, and I am even more optimistic that before we know it, we'll be talking about the next Canadian tech unicorn.
The information in this article is provided for information purposes only, is not intended to provide any type of advice. This article is not an endorsement or recommendation of any companies or industries referenced herein. Please seek professional advice to evaluate specific investment strategies. Views, comments or opinions expressed in this article are those of their respective contributors only, and are not necessarily endorsed by TMX Group Limited, any of its affiliates or their respective management or employees.