TMX POV - Critical Minerals Mining in B.C.: Policy recommendations from the industry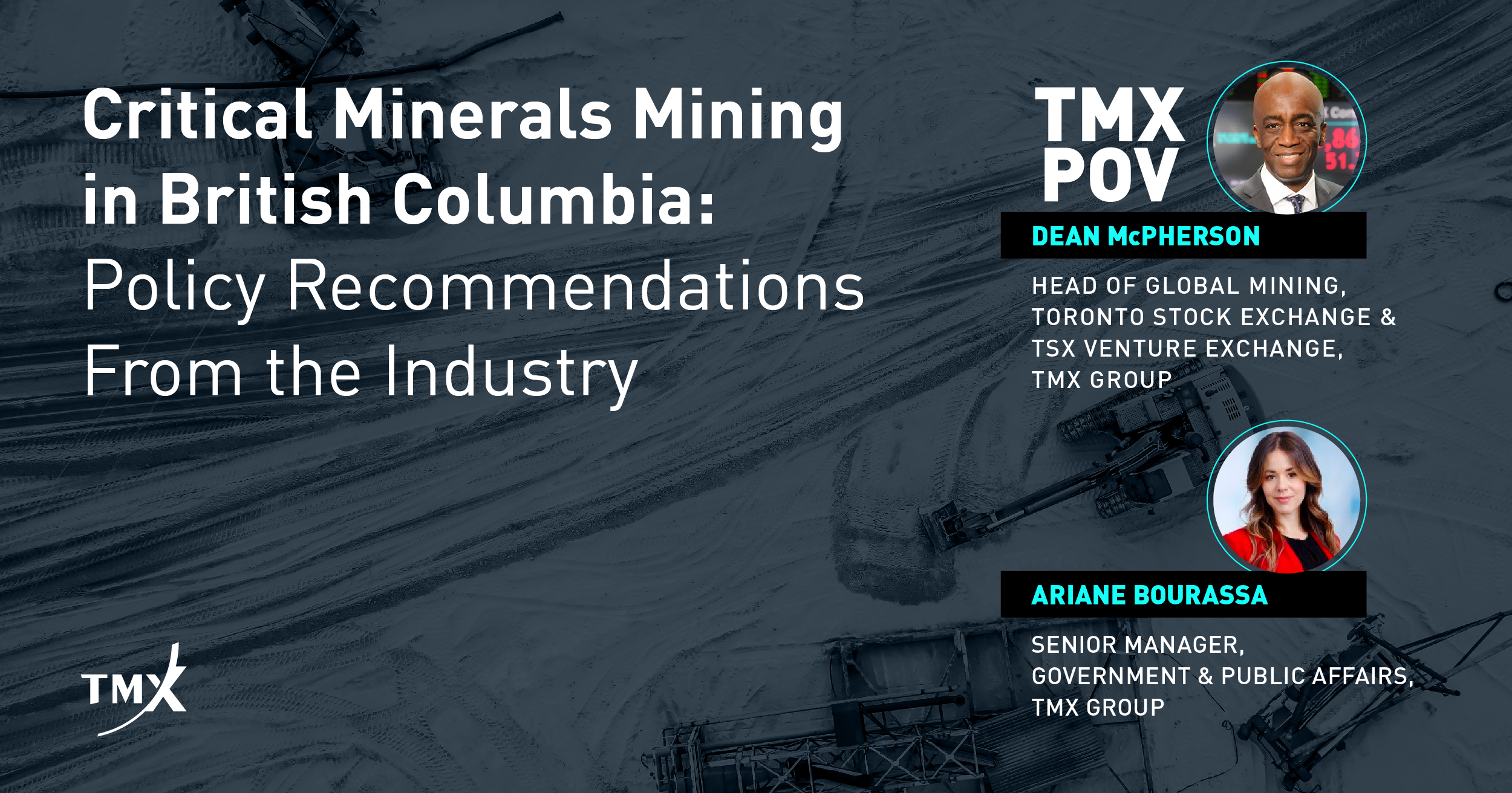 Toronto Stock Exchange and TSX Venture Exchange (TSX and TSXV) are home to more mining companies than any other market in the world, and are long-standing partners of the global mining sector. In Canada, British Columbia is a significant mining jurisdiction, and like many others in Canada and around the world, the province is in the process of developing a comprehensive critical minerals strategy.
In keeping with our commitment to serving the needs of our clients, we surveyed a sample of TSX and TSXV-listed mining companies with operations in B.C. to gather insights into the current state of critical minerals mining and their perspectives on what a provincial strategy should aim to address. We developed a report based on these survey responses, with the goal of identifying policy recommendations that would help attract much needed growth capital to the critical mineral mining sector in B.C. Below is a summary of the key recommendations. Additional details and commentary can be found in the full report:
Address mining permit process delays to reduce project assessment timelines, create clearer permitting processes and improve coordination between the B.C. and federal governments to expedite project approvals
Introduce large-scale provincial funding programs for critical mineral projects in line with the level of support provided in Ontario and Quebec inclusive of the following measures:

Enhance the B.C. Mining Flow Through Share Tax Credit with higher tax credit rates to attract even more investment in the province as it competes with other jurisdictions for capital.
Expand the Mining Exploration Tax Credit with additional credits specific to critical minerals exploration.
Ensure appropriate capitalization of the Clean B.C. Industrial Incentive Program and the Clean B.C. Industry Fund, to support the development of green power generation and other carbon emissions reduction projects.
Build social acceptability program by funding:

Workers training courses on the topics of safety and environmentally sound mining best practices;
Baseline resource and environmental baselines studies for prioritized and targeted development;
Capacity-building and engagement support for affected Indigenous groups in priorities areas.

Develop a public information campaign highlighting the benefits of the industry and standard best practices to help change public perceptions and generate social acceptance
We were also eager to learn how we could better support our critical minerals focused mining companies in attracting growth capital. Recommendations from our clients included: increasing visibility for companies through features on TMX's marketing channels; sponsoring/supporting mining events and associations; and, creating a critical minerals index. Industry stakeholders also emphasized the importance of continued engagement with federal and provincial governments. We have been active in all of these areas. Following our launch of the index last year, a new ETF was listed on TSX that tracks the S&P/TSX Energy Transition Materials Index*. We are encouraged that our efforts are in sync with stakeholder expectations.
The global transition to clean energy, combined with the potentially significant critical mineral deposits to be found in B.C., present an economic opportunity that could benefit British Columbians and the Canadian economy in general. We hope that as policy makers develop their strategy, they will consider these recommendations from the actual industry participants.
---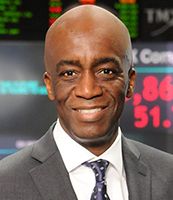 Head, Business Development,
Global Mining
Toronto Stock Exchange and TSX Venture Exchange
Follow Dean on
LinkedIn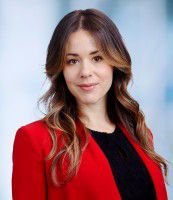 Sr. Manager, Government and Public Affairs, TMX Group
Follow Ariane on
LinkedIn
---
Copyright © 2023 TSX Inc. All rights reserved. Do not copy, distribute, sell or modify this article without TSX Inc.'s prior written consent. This article is provided for information purposes only. Neither TMX Group Limited nor any of its affiliated companies guarantees the completeness of the information contained in this article, and are not responsible for any errors or omissions in or your use of, or reliance on, the information. This article is not intended to provide legal, accounting, tax, investment, financial or other advice and should not be relied upon for such advice. The information provided is not an invitation to purchase securities listed on Toronto Stock Exchange and/or TSX Venture Exchange. TMX Group and its affiliated companies do not endorse or recommend any securities referenced in this article. TMX, the TMX Design, TMX Group, Groupe, TMX, Toronto Stock Exchange, TSX, TSXV and TSX Venture Exchange are the trademarks of TSX Inc.
* The S&P/TSX Energy Transition Materials Index (the "Index") is the product of S&P Dow Jones Indices LLC or its affiliates ("SPDJI") and TSX Inc. ("TSX"). Standard & Poor's® and S&P® are registered trademarks of Standard & Poor's Financial Services LLC ("S&P"); Dow Jones® is a registered trademark of Dow Jones Trademark Holdings LLC ("Dow Jones"); and TSX® is a registered trademark of TSX. SPDJI, Dow Jones, S&P, their respective affiliates and TSX do not sponsor, endorse, sell or promote any products based on the Index and none of such parties make any representation regarding the advisability of investing in such product(s) nor do they have any liability for any errors, omissions or interruptions of the Index or any data related thereto.