TMX Onsite: DIRTT Environmental Solutions Ltd.

Article Date: September 18, 2023
About DIRTT Environmental Solutions Ltd.
Pulling up to an unassuming brick building tucked away in southeast Calgary, you wouldn't know it is the headquarters of a global leader in industrialized construction.1 Walking up the stairs to the main reception area, you soon realize that the humble brick exterior is just a facade for the cutting-edge design of the interior. Gazing towards the exceptionally cool office space with timber framed board rooms, elegant glass-walled multi-functional spaces, and integrated casework, it becomes evident that DIRTT Environmental Solutions Ltd. ("DIRTT") is in the business of building high-end interiors.
According to DIRTT's website, their system of physical products and digital tools empowers organizations, together with construction and design leaders, to build high-performing, adaptable, interior environments. Operating in the workplace, healthcare, education, and public sector markets, DIRTT's system provides total design freedom, and greater certainty in cost, schedule, and outcomes.
History
DIRTT was incorporated in 2003 and began commercial sales in 2005. In 2013, DIRTT listed on TSX and in 2019, it listed on Nasdaq.
Management & Board Changes
During the second quarter of 2022, DIRTT's board of directors was completely refreshed. DIRTT also had several leadership changes throughout 2022 and 2023, including a new CEO, CFO, and COO in addition to the return of one of DIRTT's co-founders. These changes were made to bring fresh perspectives to DIRTT's operations and to align the Board's interest with those of its shareholders in order to maximize value for all shareholders.2
Sustainability
Sustainability is core to DIRTT's business of constructing interior spaces that endure through time. One of the ways they do this is with an eye on waste reduction. Precision fabrication of their clients interiors off-site in a state-of-the-art facility increases efficiency and reduces raw material use. With a construction system that leverages Design for Manufacturing, Assembly and Adaptation allows clients to easily reconfigure their spaces, reducing their carbon footprint and preventing construction waste from reaching the landfill.
DIRTT also prioritizes healthy materials for their clients and building occupants. This includes using finishes, coatings, and adhesives with low or no volatile organic compounds (VOCs) and leveraging materials with a high level of recycled content. By using bio-based and sustainably harvested natural products DIRTT is committed to using options for construction that have the lowest overall environmental impact.
SUSTAINABILITY ATTRIBUTES
100%* of assemblies are SCS Indoor Advantage Gold Certified
---
Forest Stewardship Council® Certified**
---
10 Environmental Product Declarations (EPDs)
---
First annual ESG report released in 2020
---
Signed the Mindful MATERIALS Manufacturer Materials Commitment
---
* Solid doors and casework must be specified with NAF
(No Added Formaldehyde) substrates to comply.
** MDF, doors and veneer can be specified as FSC upon request.
Source: 2022 ESG Report, https://dam.dirtt.com/image/upload/v1685398004/Website/Company/Sustainability/DIRTT-2022-ESG-Report.pdf, 2023
Facilities
DIRTT is headquartered in Calgary, Alberta, with experience centers, manufacturing facilities and Construction Partners throughout North America with a focus on the U.S.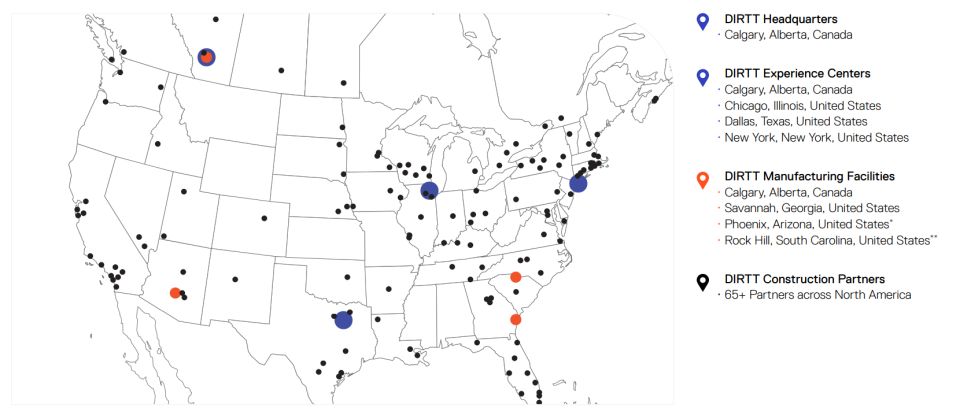 Source: 2022 ESG Report, https://dam.dirtt.com/image/upload/v1685398004/Website/Company/Sustainability/DIRTT-2022-ESG-Report.pdf, 2023
Software
DIRTT's key differentiator is a manufacturing approach based on technology. In 2005, DIRTT developed its proprietary design integration software called ICE®. ICE is used as a communication tool , to present design, visualize space, configure, price, engineer, specify, order and manage projects. We were fortunate to receive a walkthrough of the software during our visit and were impressed by its ease of use, customization capabilities and degree of detail. Simply put, ICE allows DIRTT's clients to explore their space in 3D and assists in the conceptualization and creation of their custom design. The software also allows collaboration between users in different physical locations. Using an internet connection multiple users can be present simultaneously to visualize and validate their space as it's being designed and any adjustments are immediately reflected in the design and total project cost. What's equally impressive is that ICE automates the manufacturing process too, including product inventory and cataloging, price quotation, order submission, parts manufacturing and production management. The automation of this end-to-end manufacturing process facilitates delivery by allocating production among their facilities based on proximity and capacity, thus shortening delivery time, a key advantage in this competitive space.3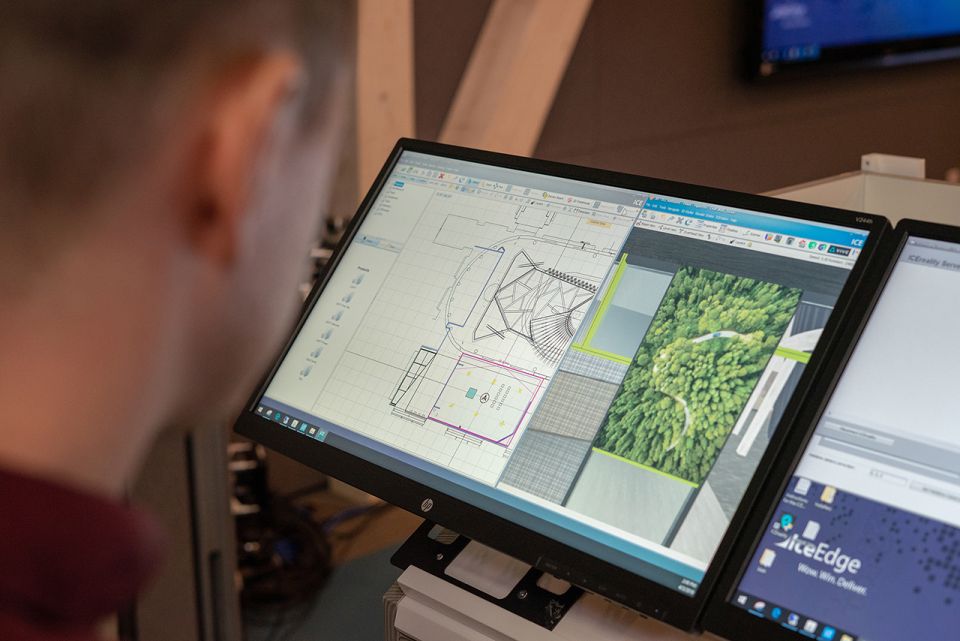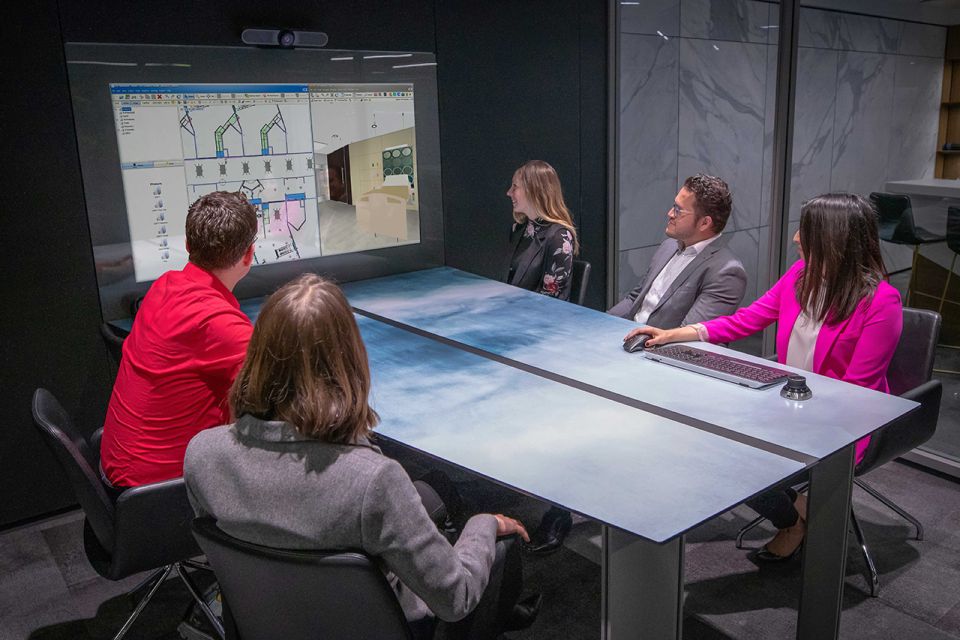 Source: DIRTT
DIRTT website, https://www.dirtt.com/about/, 2023
press releases, https://www.dirtt.com/news, 2022/2023
DIRTT 2022 ESG Report, https://dam.dirtt.com/image/upload/v1685398004/Website/Company/Sustainability/DIRTT-2022-ESG-Report.pdf, 2023
Copyright © 2023 TSX Inc. All rights reserved. Do not copy, distribute, sell or modify this document without TSX Inc.'s prior written consent. This information is provided for information purposes only. Neither TMX Group Limited nor any of its affiliated companies guarantees the completeness of the information contained in this article, and we are not responsible for any errors or omissions in or your use of, or reliance on, the information. This article is not intended to provide legal, accounting, tax, investment, financial or other advice and should not be relied upon for such advice. The information provided is not an invitation to purchase securities listed on Toronto Stock Exchange and/or TSX Venture Exchange. TMX Group and its affiliated companies do not endorse or recommend any securities referenced in this publication. TMX, the TMX design, TMX Group, Toronto Stock Exchange, TSX, TSX Venture Exchange, The Future is Yours to See., and Voir le futur. Réaliser l'avenir. are the trademarks of TSX Inc. All other trademarks used in this article are the property of their respective owners.