2020 Environmental, Social and Governance Report: The Future is Ours to Change
May 21, 2021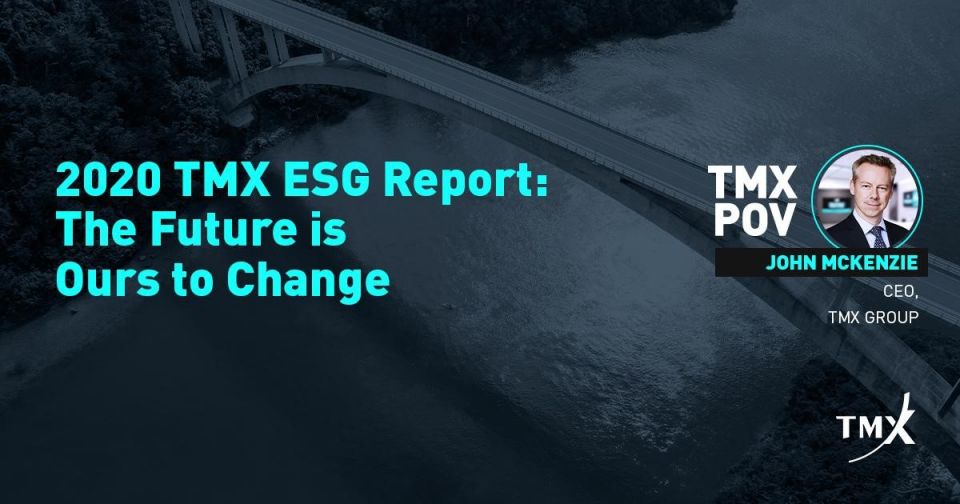 On behalf of TMX Group, I am pleased to present our second annual Environmental, Social and Governance (ESG) report.
The purpose of this report is to highlight the progress we have made in our sustainability journey over the past year as we work to integrate ESG objectives into our corporate strategy, business processes and investment decisions.
And while this is an enterprise-wide commitment and a priority focus for all of our business areas, we are keenly aware that TMX Group is not alone on this important path. Serving at the centre of Canada's capital markets ecosystem, we have a responsibility to our clients and stakeholders to enable success and drive progressive change for our industry. Our goal is to position Canada as a world-leading marketplace for sustainable investment and finance, and we are playing an active role in empowering clients to become ESG leaders in their own right through educational tools, products and services.
Throughout this report, you'll read more about our initiatives to advance our ESG objectives over the past year. Some of our key milestones include:
We worked with our employees and clients to navigate the impacts of the COVID-19 pandemic, including ensuring our employees' safety and well-being and advocating for reduced administrative and economic burdens for issuers.
We created a new sustainability function to drive progress in our ESG efforts. Paul Malcolmson has taken on the role of Vice President, Enterprise Sustainability and Investor Relations, overseeing our ESG strategy and reporting.
We hired Cindy Bush as our Chief Human Resources Officer responsible for leading all aspects of our Human Resources function, including attracting, developing and retaining a fair, diverse and inclusive workplace culture at TMX Group.
We completed our first equity, diversity and inclusion survey to gather demographic data on our workforce. Based on the survey data, an ED&I council — composed of a diverse group of employees across TMX Group — is developing our long-term ED&I strategy.
We measured our TMX Group carbon footprint by engaging a third-party consultant, detailed in this report, as a first step towards our goal of achieving carbon neutrality by the end of 2021.
We remain active through our participation in expert panels and various industry committees to be close to evolving ESG trends, best practices and disclosure. We believe in leading by example. As such, our ESG report includes Sustainability Accounting Standards Board (SASB) aligned reporting, and in 2021, we are looking to incorporate the recommendations of the Task Force on Climate-related Financial Disclosures (TCFD).
We continue to support the success of our issuers through our focus on issuer education and engagement, and are continuing to build out our education programs such as ESG 101, a central repository of resources to help companies navigate ESG trends and reporting fundamentals. This year, we also introduced a new ESG disclosure tutorial as part of our Growth Accelerator Program.
For investors, we introduced several products designed to enable investors to gain exposure to ESG investing, including six new ESG indices, the S&P/TSX 60 ESG Index futures product and sustainable bond trading.
While we're pleased to report our progress, we recognize that there is more to do. Going forward, we have several sustainability initiatives underway — across our organization — including enhanced reporting, further measures to reduce greenhouse gas emissions and new products and services for market participants.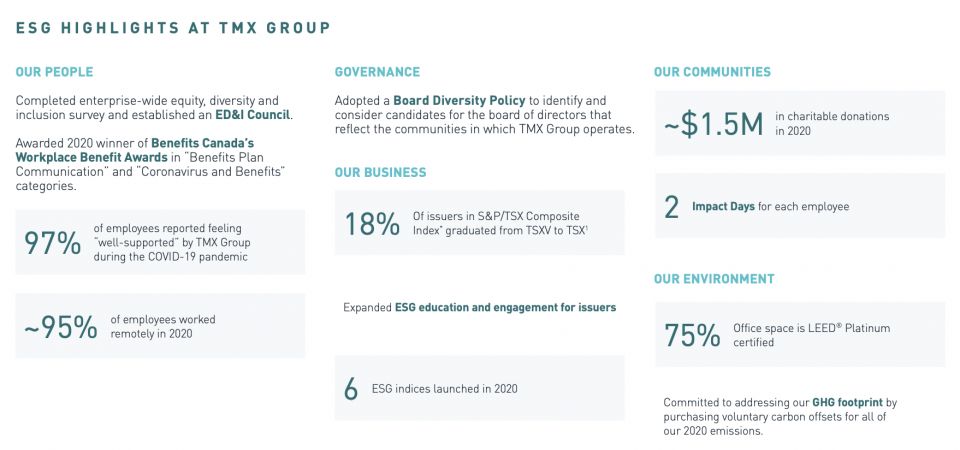 In closing, I want to thank our Board of Directors for their leadership and oversight of our sustainability journey and all of our employees for their dedication to our clients and work in advancing our ESG efforts. I also want to thank our shareholders and stakeholders for their continued support as we work towards becoming a world leading corporate citizen. We will continue to keep you updated on our progress.
For more information about TMX Group's sustainability and ESG initiatives, please visit www.tmx.com/resource/en/807.
---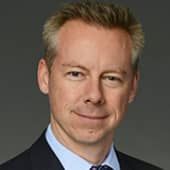 John D. McKenzie
Chief Executive Officer, TMX Group Limited
---
Copyright © 2021 TSX Inc. All rights reserved. Do not copy, distribute, sell or modify this document without TSX Inc.'s prior written consent. This information is provided for information purposes only. Neither TMX Group Limited nor any of its affiliated companies guarantees the completeness of the information contained in this article, and we are not responsible for any errors or omissions in or your use of, or reliance on, the information. The views, opinions and advice provided in the article are those of the individual authors.This article is not intended to provide legal, accounting, tax, investment, financial or other advice and should not be relied upon for such advice. The information provided is not an invitation to purchase securities listed on Toronto Stock Exchange and/or TSX Venture Exchange. TMX Group and its affiliated companies do not endorse or recommend any marketplace, exchange or securities referenced in this publication. TMX, the TMX design, The Future is Yours to See., Toronto Stock Exchange, TSX, TSX DRK, and Voir le futur. Réaliser l'avenir. are the trademarks of TSX