TMX Group CEO John McKenzie Moderates Panel on Stakeholder Capitalism
March 19, 2021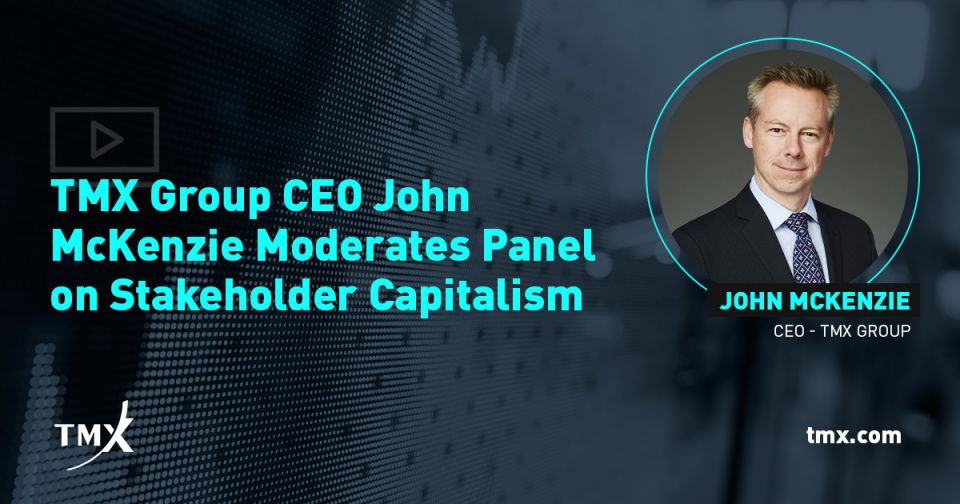 What role do public companies have in addressing the issues that impact modern society?
That was the question posed to Canadian business leaders at a recent Canadian Chamber of Commerce panel discussion moderated by TMX Group CEO John McKenzie.
Over the last few years, sustainability and Environmental, Social, and Governance (ESG) factors have become increasingly important considerations for companies listed on our exchanges and for investors in Canada and around the world.
Related: Sustainable Bonds: Expanding the Sustainable Fixed Income Market
The events of 2020 — particularly the COVID-19 pandemic and anti-racism demonstrations across North America — served to underscore the importance of incorporating ESG considerations in modern business, and to highlight the responsibility of corporations to think and act beyond the needs of their traditional set of stakeholders.
As part of the panel discussion, Mr. McKenzie noted that advancing sustainability and ESG is a priority area for TMX Group. He also highlighted ESG 101 — a portal of resources to help our listed issuers navigate ESG reporting fundamentals — and other TMX Group initiatives designed to enable investors to gain exposure to ESG investing. Examples include last year's launch of six new ESG indices, the S&P/TSX 60 ESG Index** futures product and sustainable bonds trading.
*The views, opinions and advice provided in the panel debate reflect those of the individual participants and presenters. The panel debate is not endorsed by TMX Group Limited or its affiliated companies. The video of the panel debate is provided for information purposes only. Neither TMX Group Limited nor any of its affiliated companies guarantees the completeness of the information contained in the video (which has been edited for distribution) and are not responsible for any errors or omissions in or your use of, or reliance on, the information in the video.
** The S&P/TSX 60 ESG Index (the "Index") are the products of S&P Dow Jones Indices LLC or its affiliates ("SPDJI") and TSX Inc. ("TSX"). Standard & Poor's® and S&P® are registered trademarks of Standard & Poor's Financial Services LLC ("S&P"); Dow Jones® is a registered trademark of Dow Jones Trademark Holdings LLC ("Dow Jones"); and TSX® is a registered trademark of TSX. SPDJI, Dow Jones, S&P, their respective affiliates and TSX do not sponsor, endorse, sell or promote any products based on the Index and none of such parties make any representation regarding the advisability of investing in such product(s) nor do they have any liability for any errors, omissions or interruptions of the Index or any data related thereto.