TMX POV - Shedding Light on the Canadian Dark Market – A Personal Journey
February 26, 2021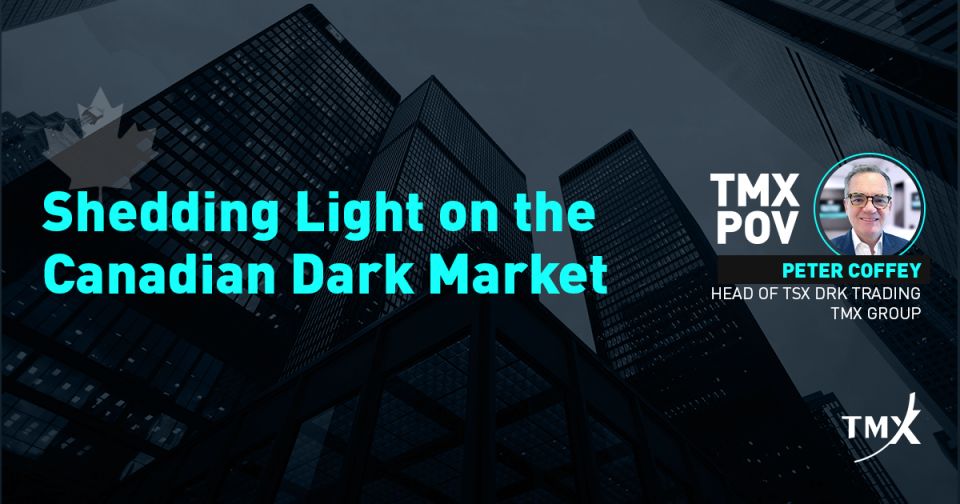 Just as the displayed exchanges and marketplaces in Canada have undergone tremendous change over the past 20 years with the regulatory liberalization that allowed alternative trading systems (ATS) in 2001, the dark market has also gone through significant change since their introduction to the Canadian market a few years later. I've had the unique opportunity to be part of many of these changes over the past several years and expect to see more change and adoption of the dark markets in the coming months and years.
The Beginning
My involvement in the electronic and dark trading world started in the late 1990s with a highly innovative firm called Versus Technologies. Versus was perhaps the first electronic-focused dealer to the Canadian market and was to introduce E*Trade, algorithmic trading and ITG's Quantex, among other advanced offerings to Canada. Versus' founder was later to launch Perimeter Financial which offered BlockBook, one of the first block dark pools to the Canadian market in 2004. Electronic trading and dark pools in Canada lagged well behind the U.S. market in adoption, often considered nefarious and damaging to the market, and perceived to be up against the dominant upstairs block and cash desks. Some of that thinking is unfortunately still true today. Versus was later acquired in 2000 by E*Trade, which along with TD and Charles Schwab, pioneered the retail explosion of online investing. It was certainly an exciting time to be the new electronic trading market.
New players
Dark pools (markets that offer no pre-trade transparency) and dark order types (non-displayed orders within a visible market) have been in Canada since the mid-2000s, including the introduction of Liquidnet in 2006 and TriAct MatchNow 2007. Meanwhile, new visible ATSs to the Canadian market were being rolled out around this time with Chi-X and Alpha in 2008 (now part of Nasdaq and Toronto Stock Exchange or TSX respectfully), and the Canadian equities market was becoming much more fragmented and complex for the dealer community. The increased use of smart-order routing (SOR) technology and benefits of cost savings, innovation and anonymity overcame the fragmentation concerns and these new markets prevailed. I was back at E*Trade at the time and routing technology became critical to the order flow process, including electronic and interlisted trading, smart routing, colocation, and order/execution management (OMS/EMS) systems. Our EMS system ClickTrader was on many of the institutional desks and E*Trade Canada was rapidly growing with retail investors, which resulted in successfully being acquired by a large Canadian bank in 2009.
What's Old is New
From there, I had the opportunity to join Instinet Canada, which was a market leader and one of the first U.S. electronic trading firms and dark pools. They had recently launched Chi-X in Canada and were looking to create greater separation of the ATS marketplace from the broker-dealer. In 2011, the first dark pool was launched in Canada in some years with the release of the Instinet Canada Cross (ICX), including a VWAP Cross and BLX (block focused pool), which provided some differentiation and specialization to the somewhat crowded Canadian market structure.
Looking at the increasing dark volume of close to 10% market share in Canada and the dramatic growth of broker-sponsored dark pools in the U.S. (now well over 50 pools), Canadian regulators wisely stepped in and on October 15, 2012 IIROC/CSA approved UMIR 6.6 - Provision of Price Improvement of a Dark Order. This important piece of Order Exposure legislation still governs dark trading rules in Canada, and includes the requirement of minimum one tick price improvement (unless over size exemption), lower execution priority of dark orders from visible orders, and the requirement of off-exchange pre-arranged trades being on an exchange. Combined with Canada's unique broker-preferencing order priority, it's my view that UMIR 6.6 has successfully curtailed the further fragmentation and internalization of order flow that is being demonstrated in the U.S equity markets.
My next opportunity came with Liquidnet in 2013, which revolutionized institutional equity block trading several years earlier through an innovative approach of OMS 'blotter scraping'. During my five years at Liquidnet, we introduced several new models, participants and asset classes to the Canadian market, and established ourselves as leaders in the buyside block trading space.
Beginning my TSX DRK™ journey
TSX re-launched our dark book (TSX DRK) in 2019 and has had tremendous growth over the past year, through creative pricing models and order types, and access to the deepest pool of liquidity in Canada. It's a privilege to now be working with the TSX team to take TSX DRK to the next level with the goal to be the market leader in dark trading in Canada. Stay tuned as I continue my TSX DRK journey.
---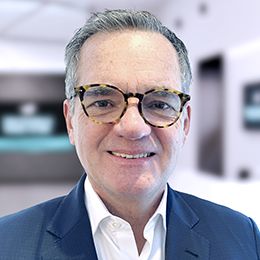 Head, TMX DRK at TMX Group
Follow Peter on
LinkedIn
---
Copyright © 2021 TSX Inc. All rights reserved. Do not copy, distribute, sell or modify this document without TSX Inc.'s prior written consent. This information is provided for information purposes only. Neither TMX Group Limited nor any of its affiliated companies guarantees the completeness of the information contained in this article, and we are not responsible for any errors or omissions in or your use of, or reliance on, the information. The views, opinions and advice provided in the article are those of the individual authors.This article is not intended to provide legal, accounting, tax, investment, financial or other advice and should not be relied upon for such advice. The information provided is not an invitation to purchase securities listed on Toronto Stock Exchange and/or TSX Venture Exchange. TMX Group and its affiliated companies do not endorse or recommend any marketplace, exchange or securities referenced in this publication. TMX, the TMX design, The Future is Yours to See., Toronto Stock Exchange, TSX, TSX DRK, and Voir le futur. Réaliser l'avenir. are the trademarks of TSX