TMX POV - CORRA Futures: A Made-in-Canada Approach to Short-Term Interest Rate Benchmark Reform
TMX POV - CORRA Futures: A Made-in-Canada Approach to Short-Term Interest Rate Benchmark Reform
November 9, 2020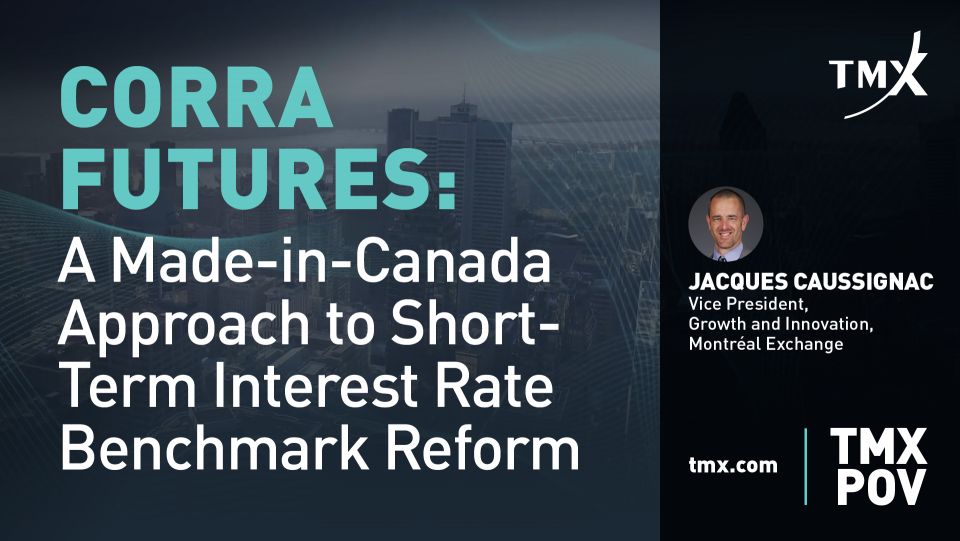 In June 2020, Montréal Exchange (MX) announced the launch of CORRA Futures, a three-month futures contract based on the Canadian Overnight Repo Rate Average (CORRA) benchmark.
The launch of CORRA Futures was a collaborative effort between MX and the Bank of Canada to position Canada as a leader in the global transformation from IBOR-based to transaction-based reference rate benchmarks.
To date — in spite of some challenging factors — we're pleased with the early response and are considering further enhancements.
Short-Term Interest Rate Benchmark Reform: How we got here
Interest rate benchmark reform and transition has been a central focus of the financial markets over the past few years.
For decades, interbank offered rates (IBORs) have been at the core of the financial markets, providing a reference for the pricing of a wide array of financial contracts including derivatives, futures and bonds. But since the 2012 Libor scandal, which revealed widespread manipulation of the most commonly quoted interest rate benchmark, jurisdictions around the world were forced to review the process by which they determined their major financial benchmarks. In 2014, the Financial Stability Board outlined a series of steps to strengthen the existing IBOR benchmarks, and to promote the development and adoption of alternative risk-free reference rates (RFRs) where appropriate. The key concept was to anchor benchmarks on actual transactions rather than relying on survey-based models.
This process was accelerated in July 2017, when the Financial Conduct Authority (FCA) announced that LIBOR submissions would not be mandatory for panel banks after 2021. This announcement spurred jurisdictions to expedite their transitions to new RFRs.
Life After Libor: A made-in-Canada approach
In Canada, the Canadian Alternative Reference Rate (CARR) Working Group was established in 2018 to identify and seek to develop a Canadian dollar term risk-free rate benchmark that was robust, reliable, and resilient to any market stress, as well as consistent with the International Organizations of Securities Commissions' (IOSCO) Principles for Financial Benchmarks. The term RFR would act as a complementary reference rate for the Canadian market and would operate alongside the Canadian Dollar Offered Rate (CDOR), the recognized interest rate benchmark in Canada.
The Working Group ultimately recommended an enhanced version of the existing Canadian Overnight Repo Rate Average (CORRA) — a transaction-based overnight risk-free interest rate benchmark that has been published since 1997 —as the preferred Canadian risk-free rate. CORRA is a representative measure of the cost of overnight general collateral funding in Canadian dollars using Government of Canada (GoC) treasury bills and bonds as collateral for repurchase transactions (repos). It is currently the reference rate for overnight index swap transactions, accounting for more than C$1 trillion in notional exposure.
The Bank of Canada, which recently took over the administration of CORRA, has implemented enhancements to the calculation methodology to improve its robustness and representativity. The result is a rate that is, on average, less volatile and closer to the Bank of Canada's target for the overnight rate. The Bank of Canada expects that, over time, CORRA will become the dominant Canadian benchmark used across a wide range of financial products.
Launch of the Three-Month CORRA Futures
In June of this year, MX launched the three-month (3M) CORRA futures product to facilitate the overall transition from IBORs to RFRs. We aligned the date of the launch with the administrative takeover of CORRA by the Bank of Canada in order to build momentum in the industry, ease the transition and to foster the growing role that CORRA will play in Canadian financial products.
The 3M CORRA Futures product was designed in collaboration with market participants and aims to address risk management needs globally. From an end-user perspective, the benchmark transition process is not something that will happen overnight: A lot of work still needs to be done to ensure operational and legal readiness in connection to OTC transactions.
The new CORRA futures offering is a means to manage risk and facilitate our participant's journey particularly by doing what exchanges do best: providing transparency and liquidity. The launch of CORRA futures was supported by the CARR working group
"CARR members applaud the Montreal Exchange on the launch of its new three-month CORRA futures contract. Developing a robust futures market is an important step in establishing CORRA as a key interest rate benchmark in Canada. CARR members thank MX for their diligent efforts in developing this contract and look forward to its widespread use."
- CARR working group co-chairs
How does the Three-Month CORRA Futures work?
A futures contract is a standardized agreement to buy or sell something at a predetermined price at a specified time in the future. The 3M CORRA futures product provides exposure to the underlying CORRA during a 3-month period. At expiry, the contract is cash-settled against the compounded daily CORRA value during the reference quarter, enabling investors to hedge repo rates and overnight index swap transactions. Three-month CORRA Futures also offer a pure play on the Bank of Canada's interest rate expectations, as well as a means to offset funding risk in cash versus futures-based transactions.
The 3M CORRA Futures product also enables investors to initiate a number of strategies with our flagship BAX contracts, like a play on the bank credit spread. Both contract specifications are similar, in the sense that they have 12 quarterly expiries, the same price quotation convention and the same tick size.
Furthermore, the design of the 3M CORRA Futures product is aligned with international standards for RFR futures contracts, facilitating the adoption by global market participants who want to implement relative value trades across jurisdictions.
Complete product specifications and examples of strategies are available on MX's website.
Early results and feedback
Despite the current market challenges, we are pleased with the early results.
Our team has done a great job in getting participants involved and familiarizing them with the product mechanics and acclimating them to the new benchmark. To date, we've had 30 market participants — from both inside and outside North America — execute 180 transactions with more than 7,000 contracts traded in six different contract expiries. We have had robust on-screen markets in the outright contracts as well as in CORRA/BAX strategies since inception, which we expect to help generate more activity going forward. We recently experienced our first contract expiry in September 2020 and everything related to the cash settlement process of the nearly 2,000 open contracts went very smoothly.
Further developments to come
Since the product launch, we have received a tremendous amount of interest; we've seen thousands of visits to the CORRA Futures page as investors seek to learn more. Furthermore, given that CORRA Futures offer investors a pure play on the Bank of Canada rate expectations, we expect the number of daily trades to expand dramatically once the Bank of Canada is again considered "in play."
We launched with a 3M CORRA Futures product because the three month term is the industry standard for new risk-free rate futures and ties in well with our flagship BAX product. We are, however, considering enhancements to our CORRA-based offerings including adding 1M CORRA Futures contracts and an Options product. Our end goal for the CORRA benchmark is to replicate the BAX ecosystem, so, while we can't commit to any timeframes, we do anticipate new CORRA-related product offerings in the future.
We will keep you posted.
---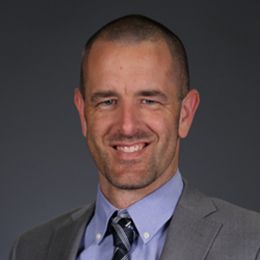 Vice President, Growth and Innovation,
Montreal Exchange
Follow Jacques on
LinkedIn
---
The sole purpose of this article is to inform participants of the Bourse and the general public about its market and the products traded on its exchange. The information and data set forth above are not intended to be used for trading purposes and shall not be interpreted in any jurisdiction as constituting a recommendation, advice, opinion or endorsement concerning the purchase or sale of derivative instruments, underlying securities or any other financial instrument or as constituting legal, accounting, tax, financial, investment or other advice. Past performance is not necessarily indicative of future performance. Bourse de Montréal Inc. recommends that, before making any investment decision, you obtain professional investment advice tailored to your needs and taking into account your particular investment goals, financial situation and individual needs.
Copyright © 2020 TSX Inc. All rights reserved. Do not sell or modify this document without TSX Inc.'s prior written consent. This information is provided for information purposes only. Neither TMX Group Limited nor any of its affiliated companies guarantees the completeness of the information contained in this article, and we are not responsible for any errors or omissions in or your use of, or reliance on, the information. This article is not intended to provide legal, accounting, tax, investment, financial or other advice and should not be relied upon for such advice. The information provided in this article is not an invitation to purchase securities listed on Toronto Stock Exchange. TMX Group and its affiliated companies do not endorse or recommend any securities referenced in this article.