TMX POV - Why Family Businesses Outperform on TSX
November 5, 2020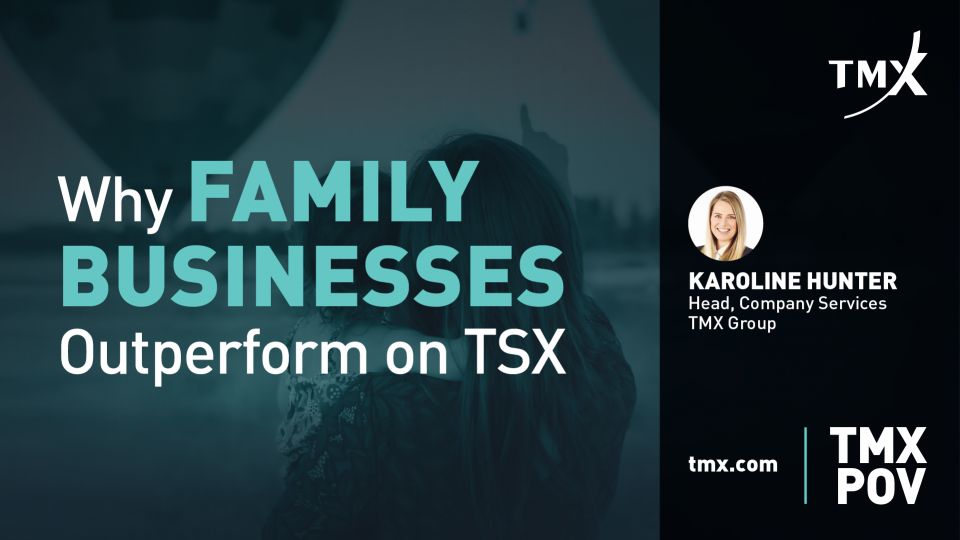 The "family business" – the oldest and most common model of business organization – often conjures up images of small mom-and-pop operations that are locally focused and where siblings quarrel over who will take over the company. However, this depiction is a far cry from the reality of the many family-controlled companies on our exchanges that are stimulating the growth of the Canadian economy and fueling entrepreneurship.
According to a recent report by National Bank of Canada ("NBC"), titled The Family Advantage, these founder- or family-controlled companies are outperforming their peers by a wide margin. The report, which has garnered a lot of national attention, spotlights the NBC Canadian Family Index (the "Index"). The Index includes 38 publicly traded family-controlled companies from across Canada, representing a wide array of industries. Over a fifteen-year period, from June 2005 to June 2020, the Index generated a cumulative total return of 180.9%, over 4000 basis points higher than the same cumulative total return for the S&P/TSX Composite Index*. On an annual basis, the average return over the same period was 7.1% versus 6% in favour of the Index. The Canadian markets have long been open to and supportive of family-controlled companies. Two companies in the Index – Shopify Inc. and Canopy Growth Corporation – were also included in this year's TSX30™, an annual program that ranks top performers based on dividend-adjusted share price appreciation over a three-year period.
What drives the outperformance in family-controlled businesses? Perhaps one could chalk it up to the sheer resilience developed when both ownership and management spans over many generations, or the innate feeling of responsibility to keep the business growing when it is closely tied to family.
For its part, the NBC report highlights six key factors that set family-controlled firms apart.
Long-term view: Family-controlled firms typically have a greater focus on creating value over generations and founders have greater patience for financial capital invested.

Low turnover: CEO tenure is longer, which means that the core knowledge of the business, its shareholders and culture remains intact longer.

Strong culture: A "founder's mentality" shapes corporate culture and is rooted in family values. Interestingly, the NBC report also noted a greater likelihood of family firms valuing and implementing ESG-related initiatives.

Careful debt: Preserving capital and an aversion to excessive debt create a safety net for family-controlled companies during difficult financial times.

Selective M&A: With corporate culture top of mind, inorganic growth has to fit with the core-family business model.

Focus on R&D: The R&D output of family-led firms is higher with more patents and new products, indicating innovation is at the forefront.
More women leading at family-controlled companies
A key data point from the report is the number of women leading family-controlled companies in Canada: 13% of companies listed in the Index have a female CEO, compared to only 5% of companies in S&P/TSX Composite Index*, 7% in the U.S. Fortune 500, and 3% in the Global Fortune 500.
The gap, which is significant by any measure, indicates that family-controlled businesses create a more conducive environment for women to strive – an environment that seems to be based in a company's foundation. The participation of family, including both men and women, in building these businesses suggests that there is simply less bias and that inclusiveness is woven into the corporate culture. In these family-controlled businesses, women serve as role models just as much as the men do, and, over time, this has led to a culture of inclusivity for females in leadership roles.
Many family firms also share the same unique governance model, further contributing to increased female leadership. Specifically, the relatively flat management structure and openness to dialogue and debate – with everyone having a voice at the table – has resulted in more female voices being heard and followed.
Related: Accelerating the Next Generation of Women Tech Founders
To be perfectly clear: the women leading Canada's most successful family businesses and shaping Canada's economy are not at the top because of their gender or family name. They've earned their place at the top because of their knowledge, skill, and talent. It circles back to the central theme of the NBC report, and that's outperformance. These female leaders are outperformers in their own right.
From learning the business's intricacies at an early age and working their way up, to being chosen as the best candidate by an independent HR committee at the board level, women are proving themselves as the best person for the leadership role.
The NBC report goes further to suggest that family businesses have time and perspective on their side, allowing for the opportunity to train and mentor the right person for a role, whether a member of the next generation of the controlling shareholder or an outside candidate. Notions that women have been parachuted in by family members simply because they share DNA are, quite simply, false.
In a day and age where we are turning up the volume on conversations about parity in boardrooms and executive offices, it's encouraging to see publicly-traded, family-controlled companies lead the way. As we collectively work towards gender parity in our workplaces, all companies should take notice of this report's findings. Not only is greater parity and more female leadership in corporate Canada achievable, it can (and it has) lead to outperformance.
---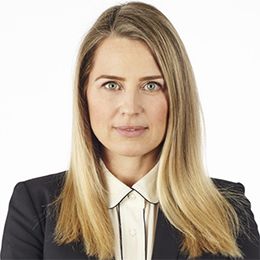 Head, TSX Company Services
Capital Formation
Follow Karoline on
LinkedIn
---
Copyright © 2020 TSX Inc. All rights reserved. Do not sell or modify this document without TSX Inc.'s prior written consent. This information is provided for information purposes only. Neither TMX Group Limited nor any of its affiliated companies guarantees the completeness of the information contained in this article, and we are not responsible for any errors or omissions in or your use of, or reliance on, the information. This article is not intended to provide legal, accounting, tax, investment, financial or other advice and should not be relied upon for such advice. The information provided in this article is not an invitation to purchase securities listed on Toronto Stock Exchange. TMX Group and its affiliated companies do not endorse or recommend any securities referenced in this article.
*The S&P/TSX Composite Index is a product of S&P Dow Jones Indices LLC or its affiliates ("SPDJI") and TSX Inc. ("TSX"). Standard & Poor's® and S&P® are registered trademarks of Standard & Poor's Financial Services LLC ("S&P"); Dow Jones® is a registered trademark of Dow Jones Trademark Holdings LLC ("Dow Jones"); and TSX® is a registered trademark of TSX. SPDJI, Dow Jones, S&P, their respective affiliates and TSX do not sponsor, endorse, sell or promote any products based on the S&P/TSX Composite Index and none of such parties make any representation regarding the advisability of investing in such product(s) nor do they have any liability for any errors, omissions or interruptions of the S&P/TSX Composite Index or any data related thereto.