TMX POV - What is the Future of Renewable Energy?
June 27, 2019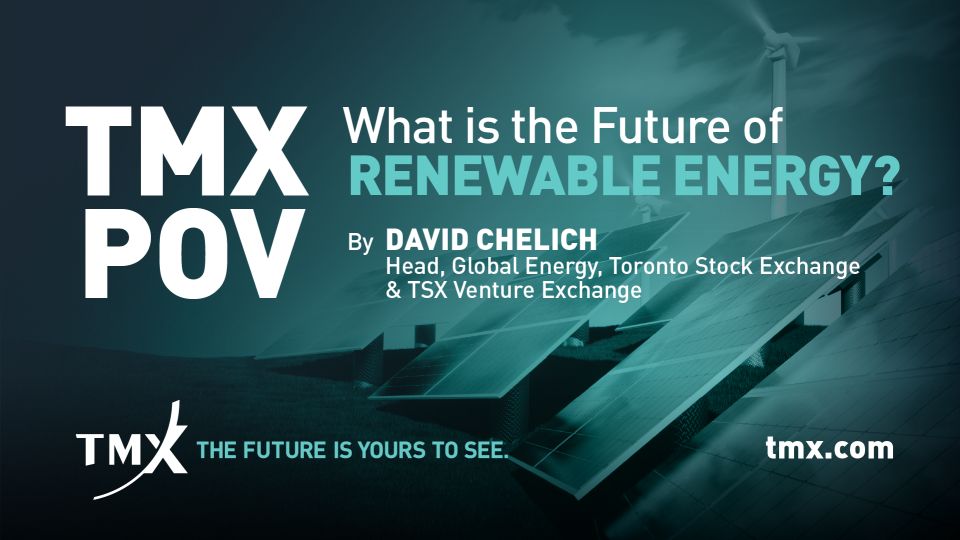 While debates continue over which sources of energy (renewable vs. non-renewable) are best suited to meet our planet's future energy requirements, the reality is, global energy demand is forecast to grow by 25% by 2040. And while this increase in demand isn't going to happen overnight, the sector is going to have to meet this requirement; estimates show it will take approximately US$2 trillion per year of investment in new energy supply.
It's no secret that the world is embracing decarbonization at an ever-increasing rate, with energy sources such as solar, wind, and biofuels playing a larger role in the production of electricity around the globe. Energy consultancy firm Wood Mackenzie is forecasting renewables like wind and solar to grow 18% by 2035 and the International Energy Agency is projecting that 40% of the planet's total energy supply will be renewable by 2040.
We've seen this transformation first hand at Toronto Stock Exchange (TSX) and TSX Venture Exchange (TSXV), where a strong number of large, high-quality, growth-oriented, pure-play renewable energy companies have chosen to list on our markets, with a combined market capitalization of $33 billion and an average seven equity research analysts covering them.
Equity research analysts covering the power-generation industry contend that more investor attention is now being directed to renewable energy companies for the following reasons:
The trend towards global de-carbonization is providing both substantial organic growth and acquisition opportunities;

Installation and operational costs have decreased to the point where the economics of large-scale wind, solar, and geothermal projects are competitive with those of traditional electricity generating methods;

Many companies are lowering their investment risk profile by entering into long-term production contracts with creditworthy off-takers, thereby providing more certainty to investors around revenue and free cash flow;

Decelerating global growth / corporate earnings and lower-for-longer global interest rates are making stable and potentially increasing dividend-paying renewable energy companies more attractive for income-oriented investors; and

Large sophisticated institutional investors are fulfilling their ESG mandates and directives by investing in renewable energy providers.
As the renewable energy industry grows in size and importance, so too has TSX's role as a global provider of capital, liquidity and trading, and visibility to public companies in this sector. As sentiment has shifted positively towards cleaner and more sustainable production, TSX is becoming a financial service centre of excellence for publicly listed renewable energy companies - both domestic and international in operations. This is evidenced by the quality and recent positive financial performance of many of the renewable energy companies that comprise the S&P/TSX Renewable Energy and Clean Technology Index (+22% YTD).
This article is provided for information purposes only, is not intended to provide any type of advice. This article is not an endorsement or recommendation of any securities or industry referenced herein. Views, comments or opinions expressed in this article are those of their respective contributors only, and are not necessarily endorsed by TMX Group Limited, any of its affiliates or their respective management or employees.