TMX POV - Public Venture Capital in Canada: A unique opportunity for US companies and investors
TMX POV - Public Venture Capital in Canada: A unique opportunity for US companies and investors
May 22, 2019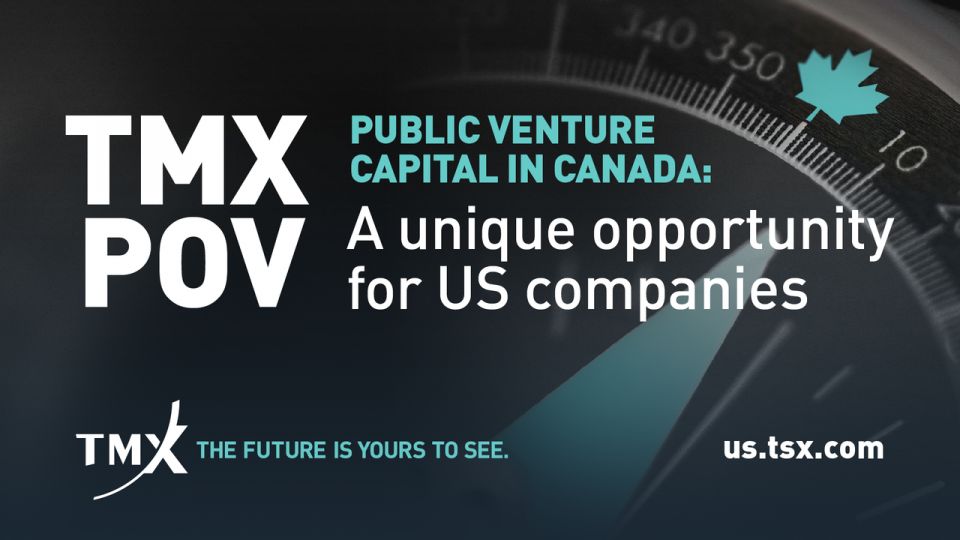 Toronto Stock Exchange (TSX) and TSX Venture Exchange (TSXV) are listing platforms for high growth US companies looking to raise capital. Companies with early revenue, a strong management team, and a growth strategy to potentially list on a US exchange should consider the Canadian capital markets as an alternative that may be the right fit. For US investors, TSX and TSXV provide an opportunity to access investment opportunities not necessarily available in the US.
Financing Opportunity for US Companies
Every entrepreneur and management team should consider all of their funding options. With the introduction of equity crowdfunding and Initial Coin Offerings (ICOs), there are now more financing options than ever, including the public markets.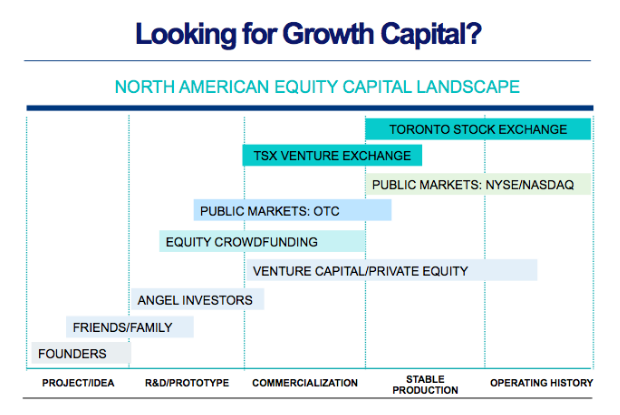 However, in the US going public typically means being quoted on the unregulated over-the-counter markets on one end of the spectrum, or completing a large initial public offering (IPO) on one of the country's main exchanges on the other end. The average IPO in the US is currently around $246 million whereas the average IPO on TSXV is $2.7 million. Companies are able to IPO at an earlier stage of growth.
The Canadian capital markets are unique in that TMX Group owns and operates a two-tiered marketplace - unlike any in the world - serving companies from early stage pre-revenue companies on TSXV to multi-billion dollar established businesses on TSX.
TSX is the senior market for larger, more stable companies with a track record. The average financings on TSX fall in the $25-$100 million range and have an average market cap of $2.0 billion. These companies benefit from increased analyst coverage and being eligible for our index products.
For smaller, early-stage growth companies, TSXV is a unique platform that is tailored to companies of this size. TSXV provides financings typically in the $5-$25 million range and TSXV issuers have an average market cap of about $30M.
For US companies currently listed on the OTC, a listing on TSXV provides an opportunity to access new pools of capital, and gain exposure to new research analysts and investors.
Why Consider a Listing or Dual-Listing on TSX or TSXV?
A Source of Growth Capital

Last year, TSX and TSXV issuers raised over $40 billion, a significant amount of capital considering the size of the Canadian population. Approximately 40% of TSX and TSXV daily trading originates from outside of Canada (a majority of that coming from US sources), providing access to international investors.

As an alternative to private venture capital, a TSXV listing can provide the benefit of raising small, subsequent rounds of capital. Financings on TSXV in 2018 were up 11% for a total of $6.8 billion raised by TSXV companies, with an average financing of $4 million. These are small public companies raising "public venture capital", as companies are accessing rounds of capital similar to the typical venture capital route of Series A, B, and C rounds. TSX companies raised $34 billion with an average financing of $64.8 million.

Tailored to Small Public Companies

With a 165-year history of financing exploration companies, the Canadian public markets have evolved to support small cap public companies. From the securities commissions, the exchanges, and analysts to the retail and institutional investors, the Canadian capital markets ecosystem is familiar with and supportive of small public companies. This is not necessarily the case in the US. TSXV companies benefit from right-sized corporate governance and reduced time and costs to listing in certain instances. For example, listing vehicles like the Capital Pool Company (CPC) program allow growth companies to access the public markets without the high costs of a large IPO.

No Longer Just a Resource Exchange

While TSX has historically been known as a natural resource market - given our 165 years financing mining and energy companies - today our stock list is more diverse. In fact, our mining issuers currently account for just 10% of the market cap of all issuers on TSX, with other sectors surpassing them.

For the past five years, the number one source of new listings has been tech and life sciences companies (including cannabis). 2018 was a record year for the innovation sector with 59 new listings (#1 sector for new listings) and $14.7B in capital raised (#1 sector for equity capital raised).

A Platform for Long Term Growth

The key benefit of this two-tiered market is the potential for early stage growth companies to list on TSXV, continue their growth by by raising several rounds of capital, and when ready, graduate to TSX. In the past 20 years, over 650 companies graduated from TSXV to TSX, and almost 40% of current TSX-listed technology companies started on TSXV.

TSX can be considered as a true stepping stone to the US markets. Once a TSX issuer is large enough and relevant enough, it can look to interlist on a US stock exchange. If your end goal is to be listed on Nasdaq or NYSE, TSXV and TSX are a viable path to get there. Currently there are 183 companies dual listed on TSX/V and a US exchange.
For the growth company that is looking to build a long-term sustainable business that requires ongoing access to capital, TSX and TSXV are important listing platforms to consider. Visit our website for more information and to access the Guide to Listing: us.tsx.com
Unique Companies to Discover

TSX and TSXV are home to unique growth companies, this is most evidenced by the 2019 TSX Venture 50®, a ranking of top performers on TSXV over the last year. The ranking is comprised of 10 companies from each of five industry sectors, selected based on three equally weighted criteria: Market Capitalization Growth, Share Price Appreciation, and Trading Volume Amount. This year the list of winners included six US companies.
For the full 2019 TSX Venture 50 list and videos of the companies, go to:
For more information, contact Delilah Panio, VP Capital Formation, Toronto Stock Exchange and TSX Venture Exchange at delilah.panio@tmx.com.
Note: All numbers are quoted in Canadian dollars.
This article is provided for information purposes only. This article is not an endorsement or recommendation of any securities or industry referenced herein. The content on this article does not constitutes a solicitation or recommendation. US persons may not access the Canadian markets directly, and any questions about or interest in investing in the Canadian markets should be directed to a US broker. Neither listing on TSX nor TSX Venture Exchange guarantees the future performance of a security or an issuer. The information in this article contains historical information, and such historical information may not be indicative of future events. TMX Group Limited and its affiliated companies do not represent, warrant or guarantee the accuracy or the completeness of the information in this article. This article does not, nor should it be construed as, providing any trading, legal, accounting, tax, investment, business, financial or other advice, and you should not rely on it for such purposes. This article is not a substitute for professional advice and professional advisors should be consulted.