TMX POV - Entrepreneurship and the Canadian Capital Markets
March 26, 2019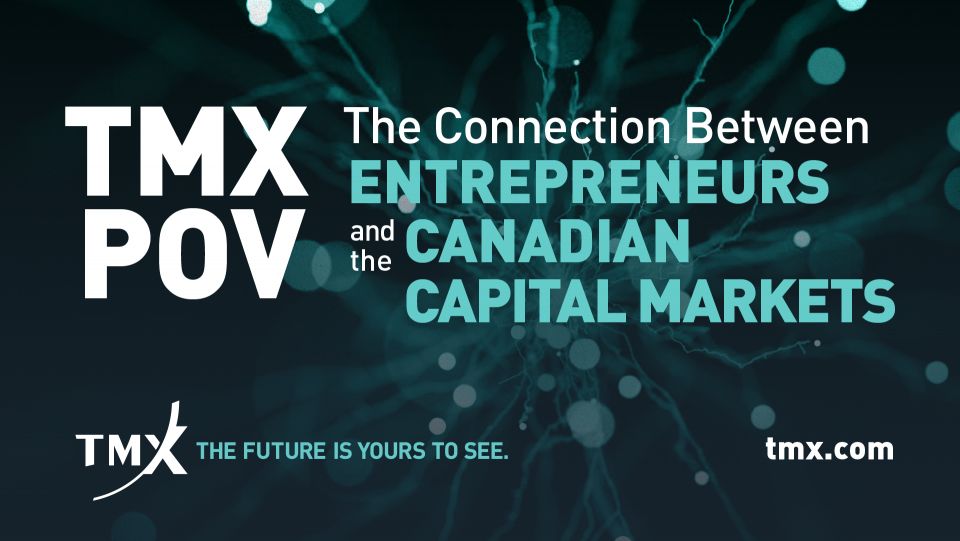 By Rob Peterman, Vice-President of Global Business Development, Toronto Stock Exchange & TSX Venture Exchange
Entrepreneurs drive growth and innovation, and lead Canadian companies into new markets. As a country, we have a rich history and tradition of entrepreneurship and people that inspire us through creativity, leadership and impact. I'm lucky enough to interact with many of them frequently in my role at Toronto Stock Exchange (TSX) and TSX Venture Exchange (TSXV), where we help business leaders build lasting legacies that help power the Canadian economy, create jobs and inspire the next generation.
The Canadian capital markets have a unique and close connection to entrepreneurs. Our growth capital marketplace, the TSXV, allows entrepreneurs the option to access public venture capital to power their growth at an earlier stage than many other countries. As part of this commitment to entrepreneurship, TMX is proud to be a National Sponsor of the EY Canada Entrepreneur of the Year Awards. The track record of TSX and TSXV companies in this program demonstrates the depth of this connection between the public markets and entrepreneurship in Canada:
Since 2009, over 50 of the category winners of the EY Canada Entrepreneur of the Year award have been the CEOs of TSX or TSXV listed companies.
4 of the last 5 national winners of the EY Canadian Entrepreneur of the Year award have been the CEOs of TSX listed companies.
Each of these Canadian CEOs that have won the EY Canadian Entrepreneur of the Year award deserve special consideration, in that these stories create a picture of business leaders from coast to coast across Canada, leading diverse businesses that have had a substantial impact.
In 2017, Murad Al-Katib, President and CEO of AGT Food and Ingredients (TSX:AGT) was the second Canadian ever to be named World Entrepreneur of the Year. After starting his company in 2003 and taking it public in 2007, AGT Food and Ingredients has grown into the world's largest vertically integrated supply chain for lentils, chickpeas and peas.
In 2014, we saw Linda Hasenfratz, CEO of Linamar (TSX:LNR) become the first woman ever to be awarded the EY Canada Entrepreneur of the Year, when she was recognized for her work transforming and accelerating the growth of Linamar, which has headquarters in Guelph, Ontario.
In 2015, Michael Donovan, Executive Chairman of DHX Media Ltd. (TSX:DHX) became the first leader of an Eastern Canadian company to receive the EY Canada Entrepreneur of the Year award, when he was recognized for building a company that has become one of the leading providers of entertainment content for children and families.
Most recently, in 2018, Germain Lamonde, Founder and CEO, EXFO Inc. (TSX:EXF) was recognized as the EY Canada Entrepreneur of the Year for taking EXFO from an optical fiber startup to a world leader in fiber optic testing and provider of service assurance solutions.
There are many factors that make a great entrepreneur; they are innovators who are determined and creative, but at the same time have a unique ability to lead people. Nominations for the 2019 program are currently open. We encourage you to think about the inspiring Canadian entrepreneurs that you know and to consider nominating them for The EY Entrepreneur of the Year Program™. This is a program that TMX Group is proud to sponsor because it brings attention to and celebrates the daring business leaders pursuing bold visions of both private and public companies. To nominate an entrepreneur or learn more about the program visit: https://www.ey.com/ca/en/about-us/entrepreneurship/entrepreneur-of-the-year.
This article is provided for information purposes only and is not intended to provide any type of advice. This article is not an endorsement or recommendation of any specific securities in any industry nor is it an invitation to purchase securities listed on TSX Venture Exchange or Toronto Stock Exchange. Listing on TSX Venture Exchange or Toronto Stock Exchange does not guarantee the future performance of a security or an issuer.