TMX POV - 2019 & The New Era of Shifting Windows
March 1, 2019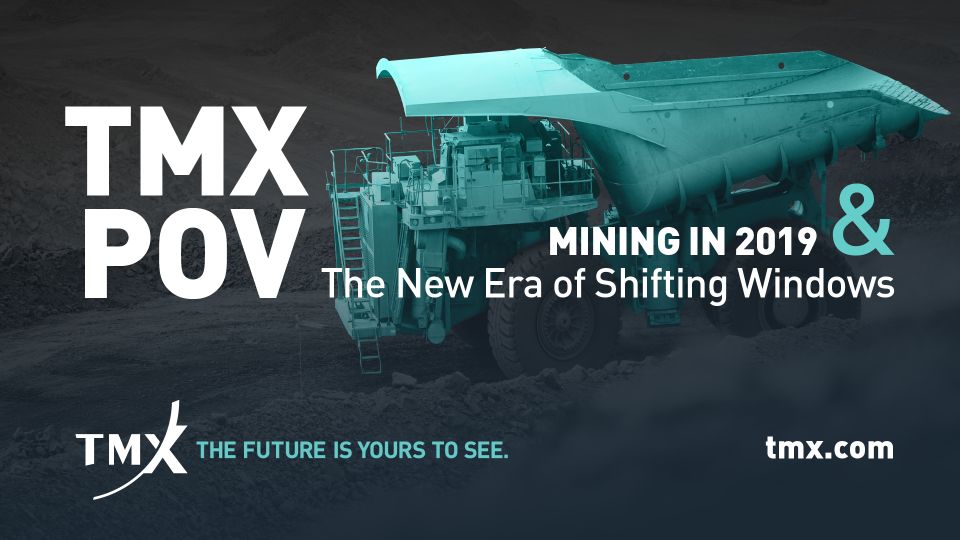 It is always interesting to take a pause at the start of a new year - to reflect and look towards the coming year. This January there is a lot to consider. There was a lot of change in the global capital markets in 2018 and this could have a big impact on investor sentiment and mining companies looking to raise capital in 2019.
In the mining sector, the year started with higher than normal optimism; all indicators signaled the continued recovery out of the historically long downturn. It was not baseless optimism; commodity prices were continuing the upward trend that started 18 months or so prior, driven by supply and demand imbalances, global economic forecast of 3+% and the advancements in electric and battery technology worldwide.
Investors were also finally coming back into the market in a big way - seeking out experienced and proven management teams behind quality projects supporting the new world order, that is, base metals and battery minerals. What could go wrong? Nothing did - until March.
There is no doubt that the past year introduced a new era of "shifting windows" to the capital markets. The global tensions hit the markets straight on, and the resulting volatility was material and consistent for the rest of the year, leading investors to retreat and digest. The window of opportunity to raise capital would quickly close, only to re-open after sentiments or the rhetoric has settled down.
So what can we expect in 2019? More. The noise will only continue. While Brexit and trade disputes have spilled over into 2019; the divided US house, will only add to the standoffs not only across the pond but here in North America as well. The good news is fundamentals are still positive--by all accounts we should have a great year as commodity prices are trending positively. Economic forecasts are generally positive albeit slightly tempered, and the aforementioned supply/demand issues around key commodities especially copper and battery minerals remain a driver.
So, what does this mean for mining companies looking to raise capital going forward? In this new geopolitical reality coupled with today's mining 2.0 environment; where stakeholder accountability, corporate social responsibility, and diversity issues have reshaped the sector, heightened market volatility is the X-factor, and I would argue that market location is everything.
In Canada, we have one of the safest jurisdictions to do business with a financial and regulatory system that significantly reduces risk for participants in our markets.
At Toronto Stock Exchange (TSX) & TSX Venture Exchange, we have streamlined and tailored listing requirements that reduce the time to listing, allowing companies to access public capital faster. Financing structures on our markets, such as the bought deal structure, significantly reduce the financing risk for mining companies.
If we take anything away from 2018, it's that it can be difficult to predict how the year will play out, but with all things considered, we should expect shifting opportunity windows to be the new norm.
This article is provided for information purposes only and is not intended to provide any type of advice. This article is not an endorsement or recommendation of any specific securities in any industry nor is it an invitation to purchase securities listed on TSX Venture Exchange or Toronto Stock Exchange. Listing on TSX Venture Exchange or Toronto Stock Exchange does not guarantee the future performance of a security or an issuer.