Project Jasper marks financial technology milestone for Canadian capital markets
May 16, 2018
Project Jasper is a collaborative research initiative between Payments Canada, the Bank of Canada and TMX Group to experiment with an integrated securities and payment settlement platform based on distributed ledger technology (DLT).
On Thursday, May 10, the working group, which also includes Accenture and R3, shared fundamental highlights of the third phase (Jasper III) findings at the annual Payments Canada summit. The team confirmed that instantaneous clearing and settlement of securities on-ledger is indeed feasible, as Jasper III completed an instant, end-to-end equity settlement for tokenized securities on DLT for the first time.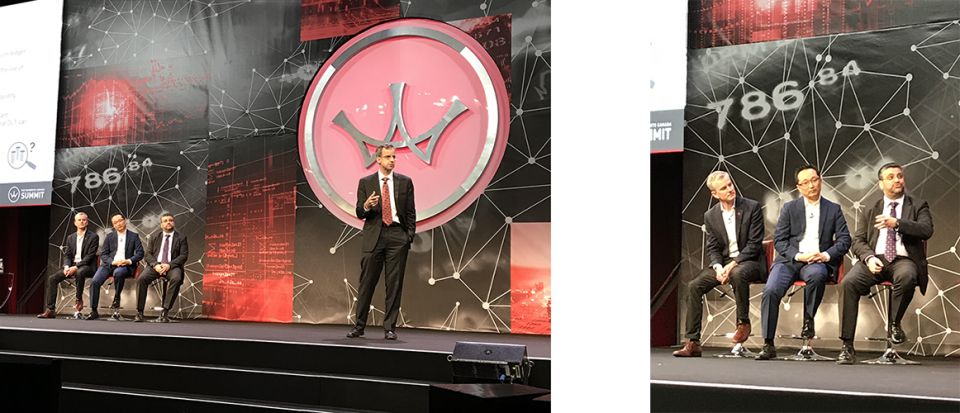 Photo: John Lee, Managing Director, Enterprise Innovation & Product Development, TMX Group, joined fellow project partners Andrew McCormack, Vice President of Payments & Technology at Payments Canada; Scott Hendry, Senior Special Director of Financial Technology at the Bank of Canada and John Velissarios, Blockchain Technology & Security Lead, Accenture, at Centre Stage.
Launched in March 2016, this project marks a growing body of work that has moved from ideation to proof of concept, identifying the potential impact and key benefits of DLT on broader Canadian financial market infrastructure.
"This is an impressive achievement and financial technology milestone for Canadian capital markets," said John Lee, Managing Director, Enterprise Innovation and Product Development, TMX Group. "That said, more work is needed to closely address remaining complexities as the group moves forward with the crucial tasks necessary to effect substantive, transformative change in global markets."
Jasper represents yet another collaborative body of work being complete by TMX Group to drive innovative product development efforts forward as a dedicated technology service provider.
In fact, Jasper III is currently the only proof of concept that maintains privacy for market participants and their transactions by giving only the parties involved in specific transactions the ability to view the transaction history, without providing the same visibility to other participants on-ledger. Previous phases focused on the clearing and settlement of high-value interbank cash payments using DLT. Phase III explores an integrated payments and securities infrastructure.
The proof of concept allowed clearing and "delivery versus payment" settlement immediately, demonstrating that it's possible to complete post-trade settlement on a DLT platform. The ability to settle transactions immediately significantly reduces counterparty risk and frees up collateral.
Next steps will include a detailed industry white paper to be issued in the coming months.