Canada's Mining Sector Shows Resilience
November 2, 2016
With the global mining industry showing signs of recovery, Toronto Stock Exchange (TSX) and TSX Venture Exchange (TSXV) remain vocal in highlighting the breadth of mining companies listed on our Exchanges. In recent high-profile media interviews, Orlee Wertheim, Head of Business Development for Global Mining at TSX/TSXV, outlined why Canada remains a central hub for mining companies of all sizes and stages of growth.
Ms. Wertheim spoke with U.K.-based industry publication Resource Global Network (RGN), and separately with the Australian Broadcasting Corporation. Listen here to the radio interview or read the article here.
The RGN interview outlined why TSX and TSXV are attractive options for mining companies, how the industry is recovering, where the key growth sectors are, and what the latest innovations mean for the Exchanges.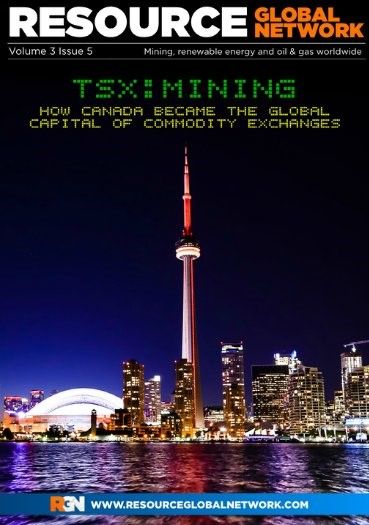 Notably, Ms. Wertheim highlights the scope of innovation within the mining sector following the latest cyclical downturn. This innovation "shows how resilient many of these companies are and how many of them have adapted to the market. Many of them have looked at ways to run more efficiently, looked at new technology and reduced capital costs."
TSX and TSXV are home to more than half of the world's public mining companies. On a combined basis, the Exchanges are also the world's number one markets for mining financing, accounting for 36% of the total dollars raised and 52% of the financings in the global public mining sector as of September 30, 2016.
Year-to-date September 30, 2016:
More than $7.8 billion in public equity capital was raised on TSX and TSXV by listed mining companies through 1,194 financings. This represents 52% of the number of global mining financings globally.
More than 1,000 mining financings, from small to large, were completed on both Exchanges, such as a $30-million raise by Gold Standard Ventures Corp. (TSXV:GSV) and a $1.3-billion public offering by Franco-Nevada Corporation (TSX:FNV).
More than 1,000 financing transactions were completed on TSXV by the end of Q3 2016, a 49% year-over-year increase compared to the same period last year.
16 new mining companies listed on TSX and TSXV, and 6 mining companies graduated from TSXV to TSX.
606 listed mining companies saw share price appreciation over 100% in the first half of 2016.
The top 10 performers on the S&P/TSX Composite Index are all mining companies. Looking at the top 20, 17 are mining companies.
To read the full RGN article, click here.
Mining Sector Activity at a Glance – YTD September 30, 2016
| September 2016 | TSXV | TSX | TSXV and TSX |
| --- | --- | --- | --- |
| Number of Issuers | 985 | 230 | 1,215 |
| Market Capitalization (C$) | 19,369,831,211 | 281,777,467,445 | 301,147,298,656 |
| New Listings | 22 | 7 | 29 |
| Equity Capital Raised (C$) | 1,797,509,107 | 6,068,862,349 | 7,866,371,456 |
| Number of Financings | 1,002 | 192 | 1,194 |
| Volume Traded | 21,417,959,732 | 27,650,420,545 | 49,068,380,277 |
| Value Traded (C$) | 5,802,445,733 | 193,700,162,789 | 199,502,608,522 |
| # of Trades | 2,769,175 | 47,731,019 | 50,500,194 |