Advancing Innovation Roundtable Takes Shape
October 24, 2016
Earlier this month, TMX announced the members of the Advancing Innovation Roundtable, a ground-breaking working group comprised of senior executives from the investment and capital formation communities in Canada. The Roundtable is a unique, collaborative opportunity to explore vital new later-stage funding solutions for Canadian companies and, in doing so, strengthening the foundation of Canada's business growth ecosystem.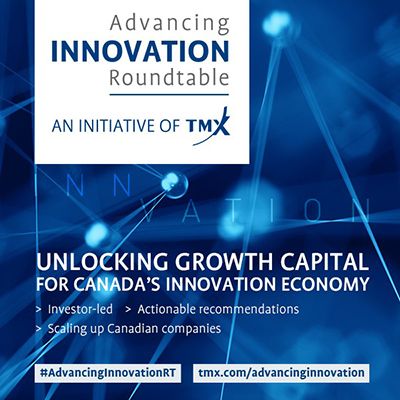 The mission of the 12-member Advancing Innovation Roundtable is to deliver actionable recommendations on how to increase access to scale up capital for Canadian innovation economy companies as they grow beyond the seed and start-up stages. Roundtable members are some of Canada's leading figures in financial markets, including pension plan groups, banks, credit unions, endowments, venture capital firms, private equity funds, and other firms. Their collective input and strategic insights from an investor perspective will help inform ongoing national conversations regarding the development of Canada's innovation economy.
Below is a video interview featuring Salil Munjal, Chair, Advancing Innovation Roundtable, in which he introduces and situates the core focus areas of the working group.
On October 4, 2016, members of the Advancing Innovation Roundtable assembled for their inaugural meeting in Toronto, with forthcoming meetings in Montréal and Vancouver during Q4-2016. In addition, a financing advisory sub-committee comprised of representatives from investment banks that assist companies raising scale up capital will help inform the work of the Roundtable.
In early 2017, the Advancing Innovation Roundtable will deliver its recommendations regarding measures and initiatives to be taken by Canada's capital formation community, federal and provincial governments, and other stakeholders.
Please visit www.tmx.com/advancinginnovation and join the conversation on Twitter using the #AdvancingInnovationRT hashtag.
Photo Gallery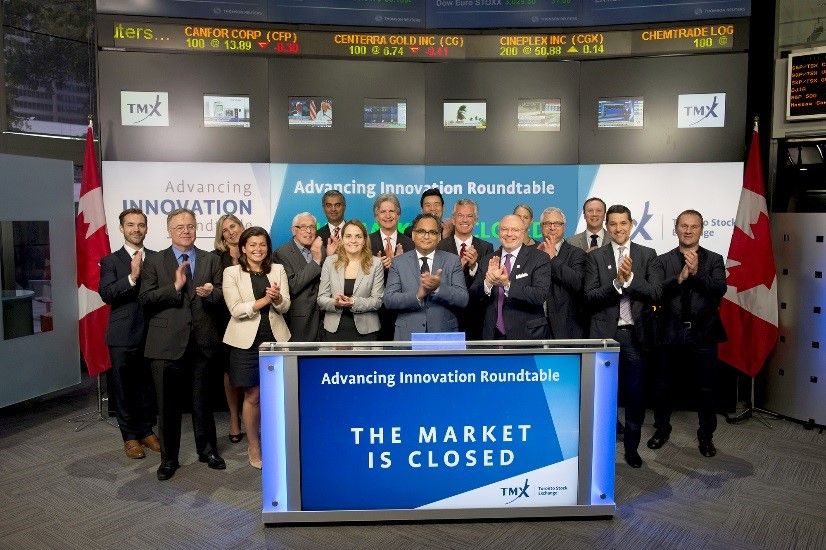 Members of the Advancing Innovation Roundtable close the market on
October 4, 2016.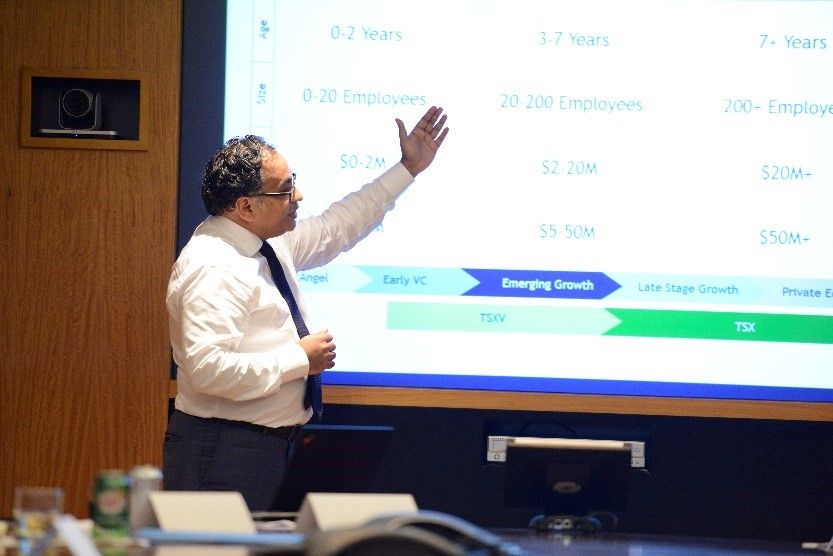 Salil Munjal, Chair, Advancing Innovation Roundtable and Partner, Yaletown Partners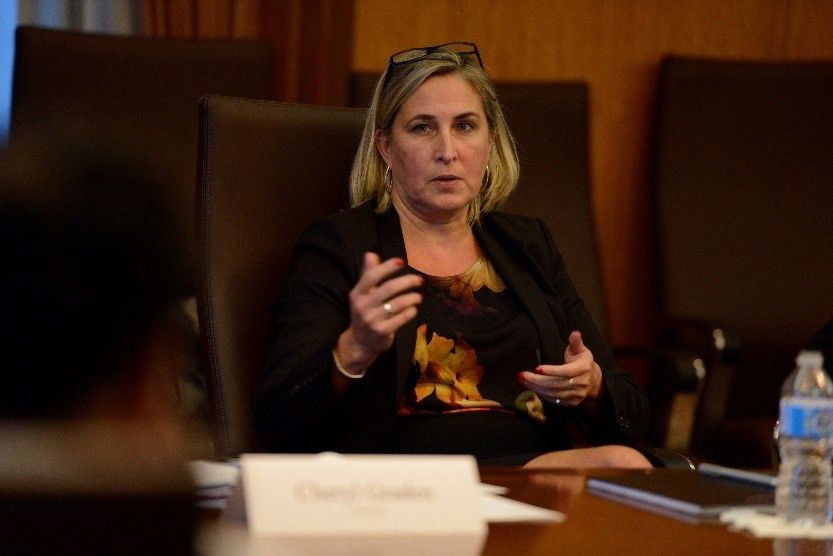 Helen Beck, Senior Vice-President, Canadian Equities and Indexed Management, Equity Markets, Caisse de dépôt et placement du Québec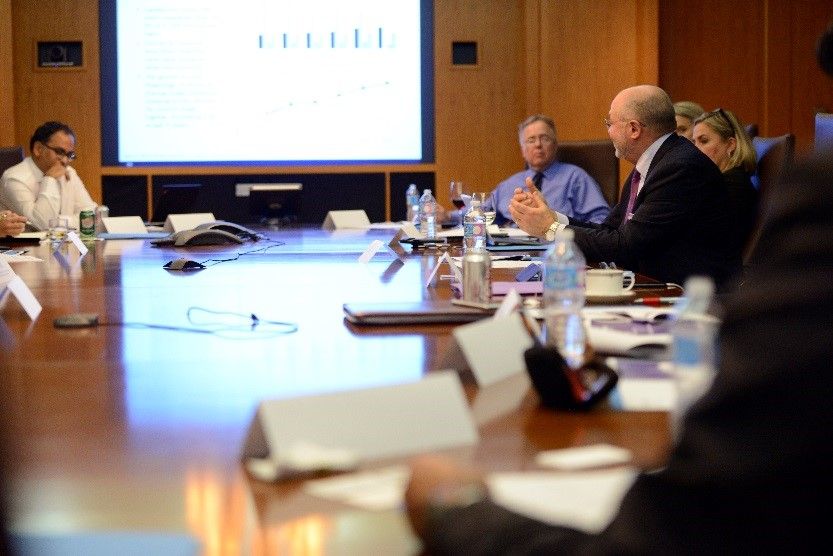 Hugh O'Reilly, President & CEO, OPTrust and Lou Eccleston, CEO, TMX Group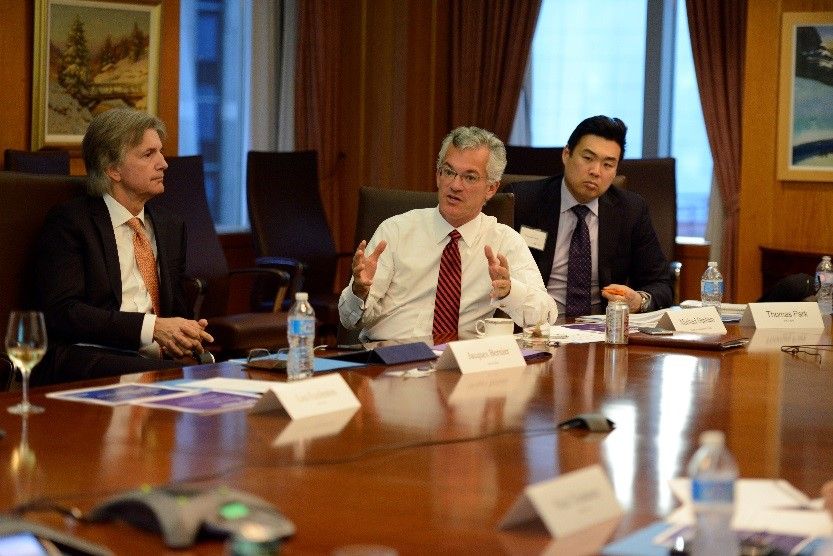 Jacques Bernier, Managing Partner, Teralys Capital (Roundtable advisor) and Michael Denham, President & CEO, Business Development Bank of Canada