We Are Canada's Markets
March 30, 2016
TMX Group public equities markets, Toronto Stock Exchange (TSX) and TSX Venture Exchange (TSXV), today launched a new, cross-country advertising campaign to highlight their position as Canada's markets of choice and the vital role they play in the Canadian economy.
Canada's leading stock exchanges by any measure, TSX and TSXV are intrinsic to the success of our country's economy. Indeed, the Exchanges are leading Canadian franchises with global reach. According to the World Federation of Exchanges, in 2015 TSX and TSXV ranked 4th in the world by the number of listings (2nd in North America), 2nd in the world for new listings, and 10th globally in total market capitalization and equity capital raised. Since the start of 2012, Canada ranks 3rd in the world (behind the U.S. and China) in terms of the amount of equity capital raised.*
"The cross-Canada advertising campaign is a testament to our steadfast commitment to facilitating effective capital formation in Canada on TSX and TSXV – where ideas and innovation meet growth capital."

— Lou Eccleston, CEO, TMX Group
TMX has been, and will continue to be, squarely focused on the growth of capital, commodity and derivatives markets in Canada. We will continue to leverage our expertise and global leadership to benefit our listed companies and their investors, while also fostering investor confidence by providing attractive, diverse and trusted marketplaces.
Visit www.canadasmarkets.ca for more information.
Below are examples of ad units being used in print, web and broadcast, as well as airport, bus shelter and elevator screens: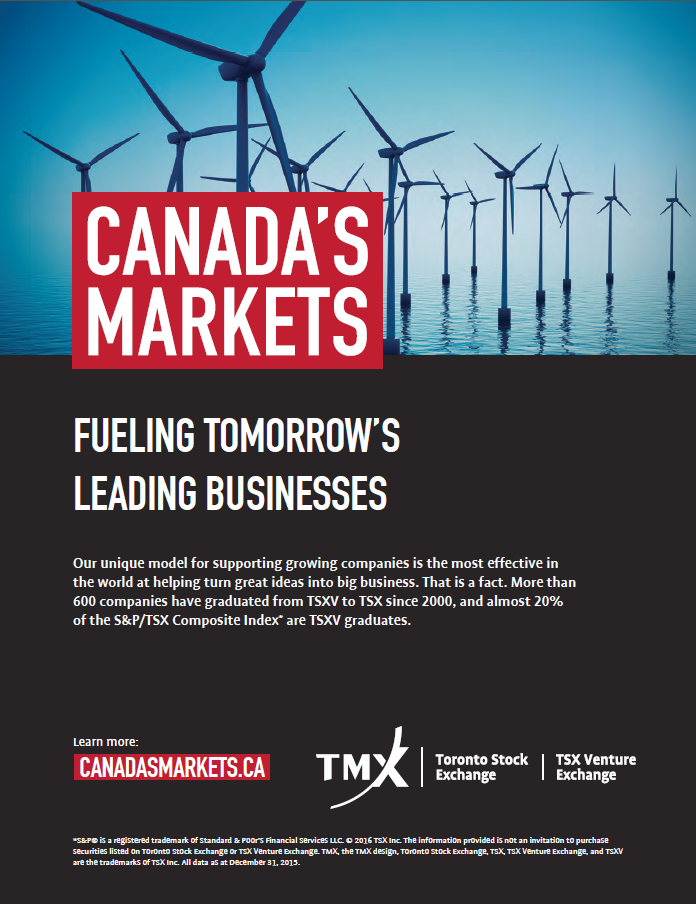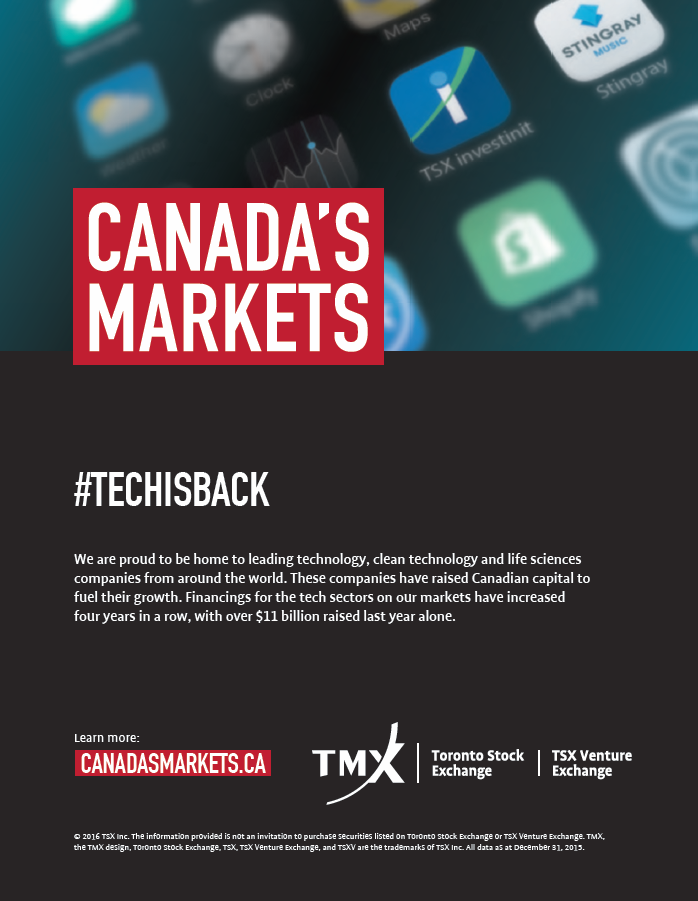 *World Federation of Exchanges statistics, as at December 31, 2015.