TSX Venture Exchange Celebrates the 2016 TSX Venture 50
March 2, 2016
TSX Venture Exchange (TSXV) last week announced the 2016 TSX Venture 50TM, an annual ranking of top performing companies from five industry sectors: Clean Technology and Life Sciences, Diversified Industries, Mining, Oil & Gas, and Technology.

Each year, the ranking showcases TSXV-listed companies that have shown notable results in key measures of market performance. The companies included in the 2016 TSX Venture 50 were selected based on three equally weighted criteria: market capitalization growth, share price appreciation and trading volume.
The top performing TSX Venture 50 companies from each industry sector are:
| Sector | Company |
| --- | --- |
| Clean Technology & Life Sciences | VANC Pharmaceuticals Inc. (NPH) |
| Diversified Industries | Lingo Media Corporation (LM) |
| Mining | Pure Energy Minerals Limited (PE) |
| Oil & Gas | Petrodorado Energy Ltd. (PDQ) |
| Technology | Pivot Technology Solutions Inc. (PTG) |
Congratulations to all of the companies included in this year's ranking! For the full 2016 TSX Venture 50 ranking visit: www.tsxventure50.com.
In addition, this year we created company profile videos to provide a closer look at the companies included in the ranking. Get to know the TSX Venture 50 companies: http://www.tsx.com/venture-50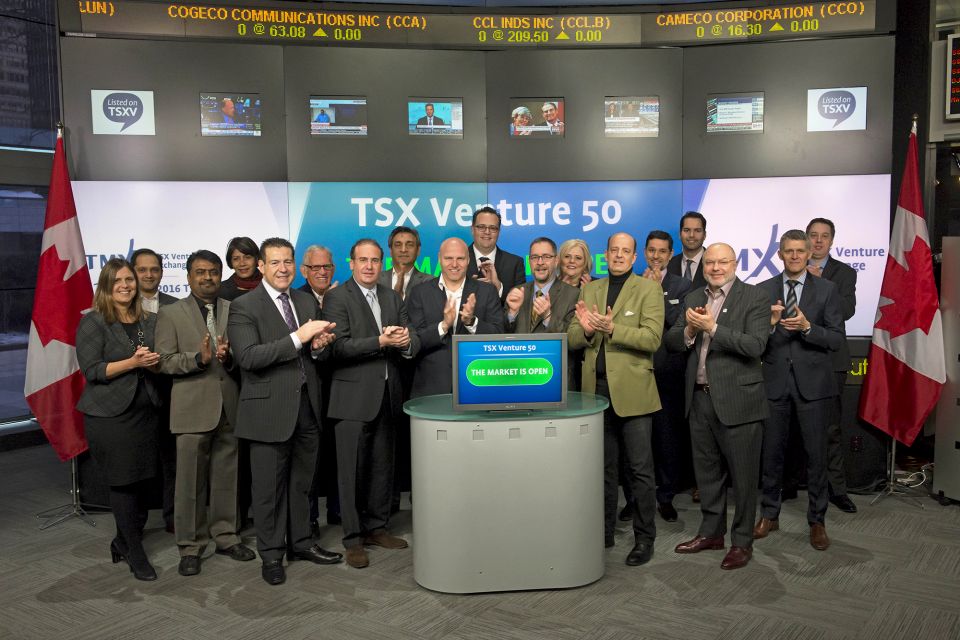 Representatives of TSX Venture 50 companies joined exchange executives at a market open ceremony to celebrate their achievement.