Canadian Annual Derivatives Conference wraps up in Québec City
October 22, 2015
Montréal Exchange (MX) this week hosted the 16th Canadian Annual Derivatives Conference (CADC), a two-day event in Québec City that brings MX closer to its clients for open, informative discussion about Canada's derivatives market. Each year, CADC attracts attendees from across the broad spectrum of MX stakeholders including trading and clearing clients, risk experts and technology and compliance professionals. This year's conference welcomed more than 250 participants from Canada, the United States and around the world.
"The key to CADC's growth in popularity and stature in the derivatives community is the consistent quality of the speakers and panelists we are able to attract each year. From the MX standpoint, the interaction and sharing of viewpoints from multiple perspectives enables us to be more responsive to market challenges and opportunities. These discussions help us come up with solutions and services which will ultimately serve to strengthen our markets."

— Alain Miquelon, President and CEO, Montréal Exchange and Group Head of Derivatives, TMX Group
Highlights in this year's program included a headline panel featuring economists from Canada's leading six banks and panel discussions exploring Canadian and global perspectives on important issues and topics within the industry such as hedge fund investing, synthetic financing opportunities, sophisticated options strategies, and investing and risk management strategies in pension planning.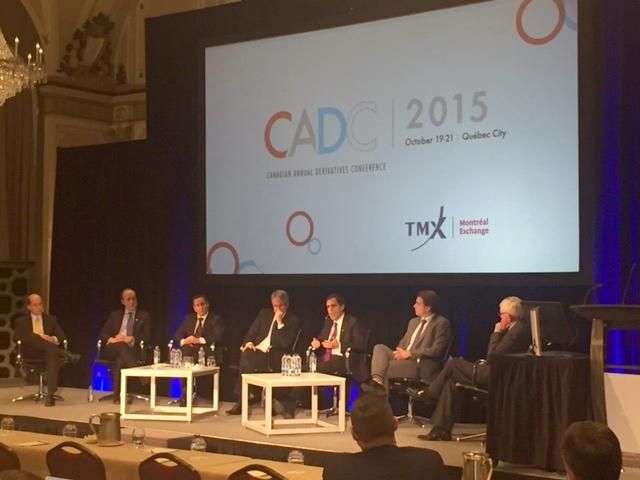 Headline Panel with Canada's Bank Economists, featuring Derek Holt (Scotiabank), Stéfane Marion (National Bank), Douglas Porter (BMO Capital Markets), Avery Shenfeld (CIBC), David Tulk (TD Securities) and Craig Wright (RBC).