TSX/SDTC Industrial & Clean Technology Investor Day Showcases Vibrant Sector
September 18, 2015
Toronto Stock Exchange (TSX) and TSX Venture Exchange (TSXV) yesterday hosted their 9th Industrial and Clean Technology Investor Day – an institutional investor-focused series that was first launched in 2008. In partnership with Sustainable Development Technology Canada (SDTC) and NATIONAL Equicom, and supported by sponsors MNP LLP and Cassels Brock & Blackwell LLP, the half-day event promoted Canada's industrial technology and clean technology sectors, 21st century industries that represent a powerful economic opportunity for our country.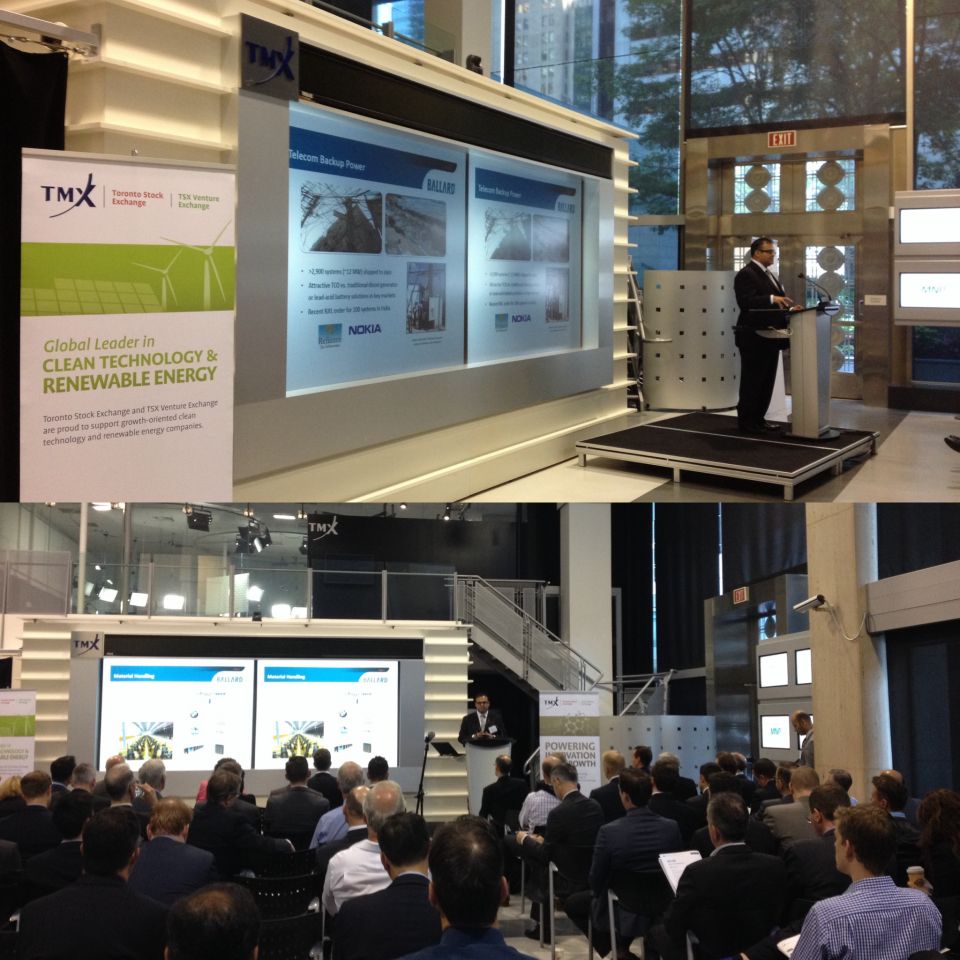 The TSX/TSXV Investor Day series is unique in that it gives both public and private companies, across all sectors, an opportunity to tell their story to a broad range of investors and capital markets representatives. This year's TSX/SDTC Industrial & Clean Technology Investor Day showcased the strength of the Canadian industrial technology and clean technology industry, and welcomed six TSX-listed companies and ten private companies from the sector, representing a broad range of service and product offerings, geographies and stages of development. Here is a list of the companies that presented at the event:
Ballard Power Systems Inc. (BLD)
Corvus Energy Ltd. (private)
Carmanah Technologies Corporation (CMH)
BitStew Systems (private)
PFB Corporation (PFB)
GeoDigital International Inc. (private)
Lumenpulse Inc (LMP)
Cooledge Lighting Inc. (private)
New Flyer Industries Inc. (NFI)
Delta-Q Technologies (private)
Orbite Technologies Inc. (ORT)
Several emerging, private technology companies also provided 'mini-pitches' at the event to shine a light on their technological innovation:
HiFi Engineering Inc.
Miovision Technologies
Fibracast Ltd.
SWITCH Materials Inc.
Vive Crop Protection Inc.
TSX and TSXV are home to a vibrant and growing clean technology and renewable energy sector. Over 120 cleantech companies are listed on the Exchanges – more than any other exchange in the world. Halfway through 2015, the sector reached a market value of $29 billion – the sector's highest ever total market capitalization. As at the end of July, companies in the sector raised more than $1.6 billion in growth capital, marking the seventh consecutive year where capital formation in the sector is above $1 billion.