TMX Group CEO Lou Eccleston Ranked Among Institutional Investor 2015 Tech 50
July 28, 2015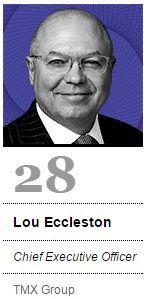 Lou Eccleston, TMX Group's Chief Executive Officer, claimed No. 28 on Institutional Investor magazine's 2015 Tech 50 ranking. The annual ranking recognizes the world's top financial technology professionals for successful, innovative leadership through a constantly evolving financial services sector. The executives named to the annual Tech 50 ranking interpret the broad direction and implications of high-tech advances to provide creative solutions for customer challenges and to capitalize on opportunities for their organizations.
The Tech 50 ranking was compiled by Institutional Investor editors and staff, with nominations and input from industry participants and experts. Four primary sets of attributes were evaluated: achievements and contributions over the course of a career; scope and complexity of responsibilities; influence and leadership inside and outside the organization; and pure technological innovation.
CLICK HERE to view The 2015 Tech 50 ranking.