Technology and Innovation Sectors Continue Their Upward Swing
July 14, 2015
The technology and innovations sectors on Toronto Stock Exchange (TSX) and TSX Venture Exchange (TSXV) – comprised of the technology, clean technology and renewable energy, and life sciences sectors – have been the fastest growing on the Exchanges over the last few years. In fact, the total market capitalization of technology and innovation companies on TSX and TSXV has grown 183% since the start of 2013. As Canada's knowledge economy industries gain momentum, activity in the country's leading capital markets is a testament to that revival.
Technology companies from Canada, the U.S. and around the world are turning to TSX and TSXV during their go-public transactions, and investor interest in both small and large innovation companies is stronger than it has been in years. For instance, three leading companies in their respective industries – Shopify Inc. (SH), Stingray Digital Group Inc. (RAY.A) and Mogo Finance Technology Inc. (GO) – recently went public on TSX to grow their businesses. A few weeks earlier, another TSX-listed Canadian technology company, DH Corporation (DH), raised nearly $1 billion to fund a major international acquisition. And earlier this year, Frankly Inc. (TLK), a Silicon Valley-based mobile tech start-up, looked north to finance their growth on TSXV. These are only a few examples of the 16 new technology and innovation listings so far this year.
While the first half of 2015 has brought well-deserved attention to the Canadian technology sector, the recent successes are actually part of a longer-term resurgence of interest in technology and innovation companies. The following points make this clear:
The technology and innovation companies listed on TSX and TSXV are now collectively valued at almost $250 billion – more than the aggregate value of the mining sector.
Over 65 new technology and innovation companies have gone public on the Exchanges since the start of 2014 – more than any other industry sector, other than Exchange Traded Funds.
Nine technology and innovation companies have graduated from TSXV to TSX since the start of 2014 – the highest graduation rate across all sectors.
Technology and innovation companies listed on TSX and TSXV have raised more than $15 billion in equity capital since the start of 2014, through more than 460 transactions.
The S&P/TSX Capped Information Technology Index, which serves as a barometer for the sector, rose 38% in the last year and a half. In contrast, the S&P 500 Information Technology Index of U.S. companies was up 19% over the same period.
Gone is the era of Canada's so-called "vanishing tech sector." What has replaced it is a vibrant innovation ecosystem that is seeing some of the world's most exciting technology companies being founded, built and funded in Canada. TSX and TSXV are proud to support the growth of these sectors and will continue to provide innovation companies of all sizes new funding options.
All data as of June 30, 2015.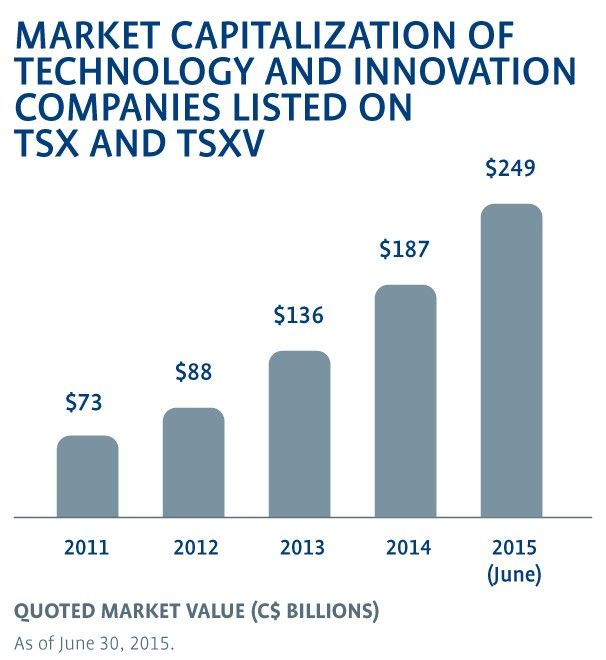 "S&P" is the trade-mark of Standard & Poor's Financial Services LLC, and "TSX" is the trade-mark of TSX Inc.