SPACs Find Their Stride on TSX
June 29, 2015
Toronto Stock Exchange (TSX) recently listed the first two Special Purpose Acquisition Corporations (SPAC) in Canada amid growing interest in this investment vehicle. The SPAC offers an alternative means of listing on TSX, allowing issuers to go public and raise equity capital with the intention of later acquiring an operating business or assets – a process called the Qualifying Transaction (QT) – within 36 months of closing an initial public offering (IPO).
Dundee Acquisition Ltd. (DAQ.A) listed on TSX in April 2015, raising more than $100 million, and soon after INFOR Acquisition Corp. (IAC.UN) closed an initial public offering that raised around $200 million. This alternative way to go public is drawing increasing attention of both issuers and investors.
Although new to Canada, SPACs are more commonly known in the United States, where they were launched in the early 1990s. The TSX SPAC rules were implemented in December 2008, however with the evolution of SPACs in the U.S. and other markets, certain exemptions were granted by TSX in connection with the two recent listings to accommodate some of the new features of SPACs.
The SPAC model has garnered interest because it allows public investors to invest in businesses or assets usually sought by private equity firms, while still providing investor protections. And for certain target companies, being acquired by a publicly-traded shell company looking for an investment provides an efficient alternative to a traditional IPO.
Last week, TSX hosted a sold-out, standing room only special event on June 22 titled, "Taking Advantage of the SPAC Momentum on Toronto Stock Exchange." With the growing interest surrounding SPACs, both from companies and investors, the event brought together leading legal, banking and financial services representatives, as well as the Managing Director of Dundee Acquisition Ltd. and the Principal of INFOR Financial Group to discuss their experiences.
Click here to access a Guide to Special Purpose Acquisition Corporations.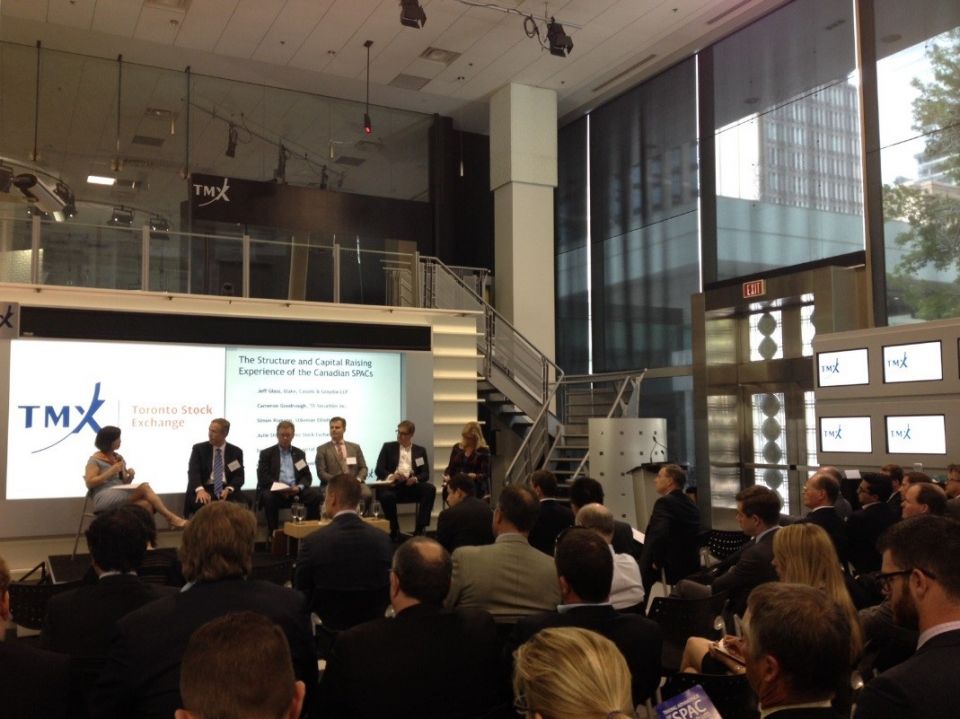 Julie Shin, Director, Listed Issuer Services, TSX, discusses the structure and capital raising experience of Canadian SPACs with Simon Romano, Partner, Stikeman Elliott LLP, Jeff Glass, Partner, Blake, Cassels & Graydon LLP, Cameron Goodnough, Managing Director, TD Securities Inc. and Scott Smith, Managing Director, BMO Capital Markets.