Welcome to TSX, Shopify!
May 26, 2015
Toronto Stock Exchange (TSX) is very pleased to welcome Shopify Inc. (TSX: SH) as the newest listing in the technology sector on TSX. Shopify is a leading cloud-based commerce platform designed for small and medium-sized businesses to design, set up and manage stores across multiple sales channels. The Ottawa-based company currently hosts more than 165,000 businesses in approximately 150 countries.
Tobi Lütke, Founder and Chief Executive Officer, was joined by members of Shopify's leadership team, Lou Eccleston, Chief Executive Officer, TMX Group, and members of the TSX team to celebrate their first day of trading with an official Market Open Ceremony in Toronto this morning.

"We are extremely proud of our Canadian heritage and the company we have built here. Our listing on the TSX is a significant milestone in our story, and we believe it marks the start of a new chapter for Shopify as we continue to grow our business and make commerce better for everyone in Canada and around the world."

— Tobi Lütke, Founder and Chief Executive Officer, Shopify Inc.

"TSX and TSXV are where ideas and innovation meet capital. Our markets stand ready to provide innovation companies of all sizes new funding options to help them grow their businesses. We are delighted to welcome Shopify to TSX as the newest listing in the fast-growing technology sector."

— Lou Eccleston, Chief Executive Officer, TMX Group

Shopify is the latest in a wave of technology companies to go public on TSX and TSX Venture Exchange (TSXV) over the last couple of years. In fact, the technology sector has been one of the fastest-growing sectors on TSX and TSXV, on a combined basis, since the start of 2013. Technology companies from Canada, the U.S. and around the world turn to our equities markets during their go-public transactions, and investor interest in the Canadian tech sector is stronger than it has been in years.
Below are some key statistics that put the growth of the technology sector on TSX and TSXV in perspective:
Market capitalization – Over 175 technology companies are listed on TSX and TSXV, from early stage ventures to large-cap multinationals, with a combined market capitalization of more than $92 billion.

Market value increase – The combined market value of technology companies listed on the Exchanges has increased 105% since the start of 2013.

Index performance – The S&P†/TSX Capped Information Technology Index, which serves as a barometer for the sector, rose 36% in 2014 – the second-highest percentage increase amongst all S&P/TSX sector indices. In contrast, the S&P 500 Information Technology Index of U.S. companies was up 19% over the same period.
The performance of the technology sector on TSX and TSXV is part of a broader trend that is seeing some of the world's most exciting technology companies being founded, built and funded in Canada. This is due, in large part, to all parts of Canada's technology ecosystem working together: promising founders are being supported by great accelerators and mentors; government programs are encouraging innovation; angel investors and venture capitalists (VCs) are backing exciting new and established companies; management teams are executing their growth strategies; initial public offering (IPO) investors are providing attractive exit alternatives; and strategic buyers are stepping-up with attractive valuations.
TSX and TSXV are squarely focused on supporting a strong and vibrant Canadian technology sector: a sector ripe with opportunities for investors and innovative, growing companies. Welcoming Shopify to these public markets is a momentous occasion for the sector; we are honoured to be a part of it and grateful to Shopify for trusting us with their listing.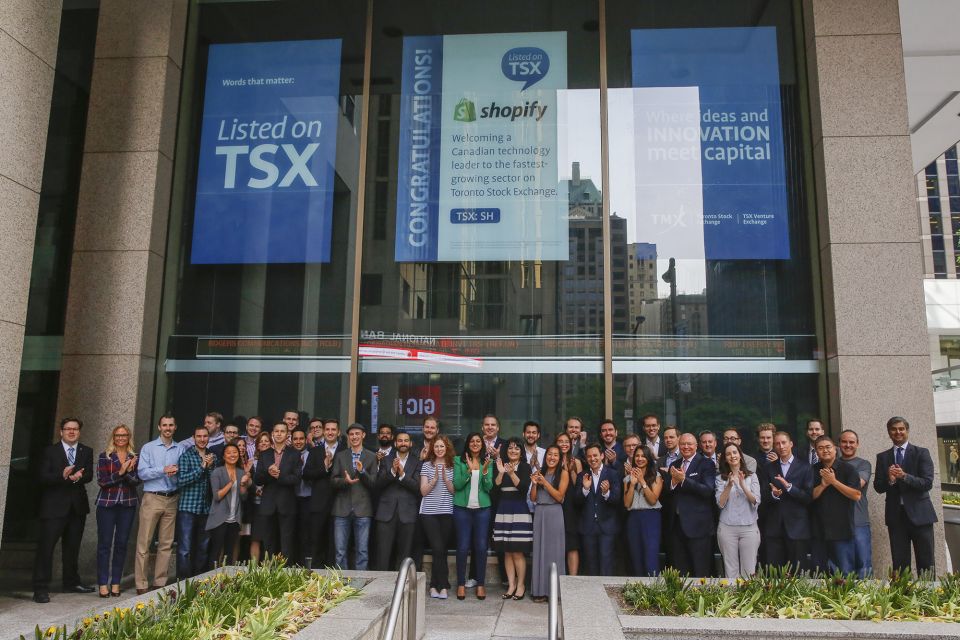 Unless noted otherwise, all data as at April 30, 2015.
† "S&P", as part of the composite mark of S&P/TSX which is used in the name The S&P/TSX Capped Information Technology Index, refers to a trade-mark of Standard & Poor's Financial Services LLC and is used under license by TSX Inc.