TMX Equity Transfer Services Celebrates 25 Years of Providing Transfer Agency Services
March 18, 2015
Earlier this week, TMX Equity Transfer Services held a market open ceremony to celebrate a quarter-century of providing securities transfer services to both public and private companies, as well as the advisory community in Canada and around the world.
TMX Group acquired the transfer agent and corporate trust services business from Equity Financial Holdings Inc. in April 2013 and renamed it TMX Equity Transfer Services. The acquisition marked a major step forward in the development of the business's stock transfer operations, which had been operating as Equity Financial Trust Company since 1990. The business expanded to include corporate trust operations in 2006.
By adding TMX Equity Transfer Services to the TSX Company Services portfolio, TMX Group enhanced the products and services it offers to companies listed on Toronto Stock Exchange (TSX) and TSX Venture Exchange (TSXV), which also include investor relations, design services, shareholder data and tracking, and market analytics. The business's expert support is an important service offering available to nearly 3,500 companies listed on TSX and TSXV, as well as private companies and legal and financial advisors.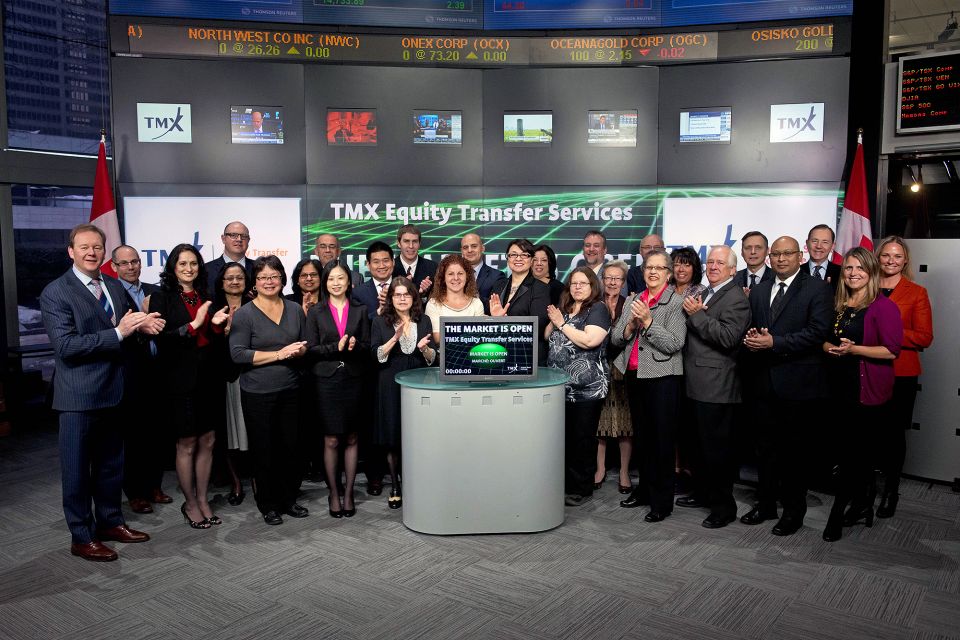 Loui Anastasopoulos, President and Chief Operating Officer, TMX Equity Transfer Services, with members of his team to mark the milestone during a market open ceremony on Monday, March 16.