Leading the World in Mining Financing
March 3, 2015
The annual Prospectors and Developers Association of Canada's (PDAC) International Convention, Trade Show & Investors Exchange is in Toronto this week. With PDAC 2015 well underway, let's look back at capital raising activity in the mining sector on Toronto Stock Exchange (TSX) and TSX Venture Exchange (TSXV) in 2014.
Despite a year of challenging conditions for the mining sector, there was still a significant amount of financing activity through both large and small deals on TSX and TSXV. Almost $8.9 billion in equity capital was raised in 2014 on the Exchanges, through 1,482 financings, which represents 62% of all equity capital raised by the world's public mining companies last year. Equity capital raised in the sector on TSX and TSXV increased by 28% compared to 2013, and the number of financings saw a 5% increase over this period. The chart below shows where the Exchanges rank relative to other global exchange groups in terms of capital raised in the mining sector in 2014: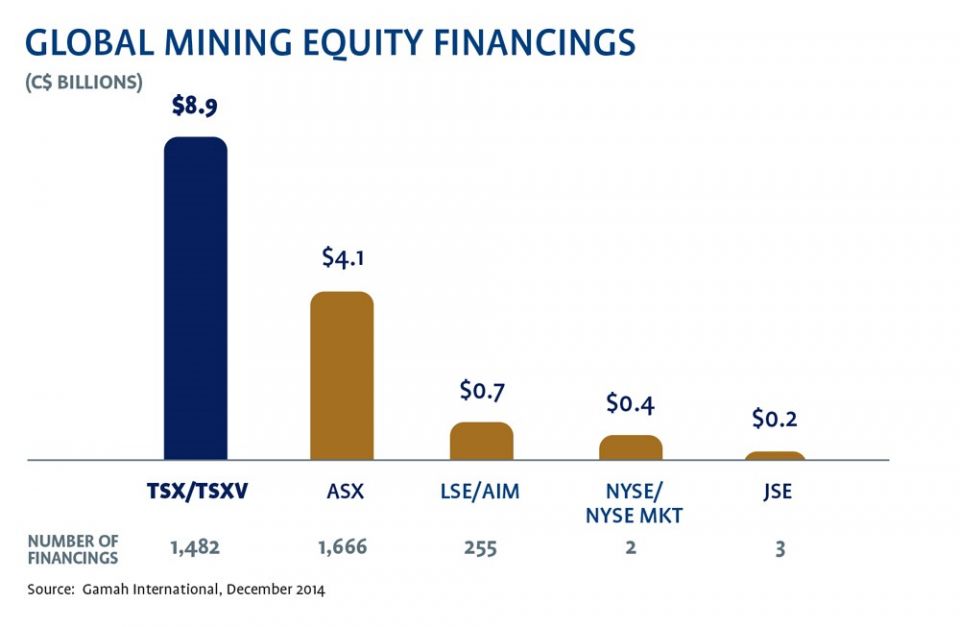 However, some public mining companies continue to grapple with market factors that make it difficult to access capital to operate and expand their businesses, and it can be especially difficult for companies at earlier stages of growth. TSX and TSXV are sensitive to these conditions and have responded with measures and advocacy work that may make it easier for mining companies to raise capital. For instance, TSXV introduced formal policy amendments and provided guidance to certain requirements and restrictions pertaining to minimum pricing rules and capital structure to assist with accessing capital. The Exchanges have also advocated for a prospectus exemption that allows listed companies to raise money by distributing securities to their existing security holders, which has been implemented by Canadian securities regulators. In November 2014, TSX Private Markets was launched to serve companies – both private and public – and their investors. The service is designed to facilitate the raising of capital for companies and secondary trading in Canada's exempt market.
Taken together, TSX and TSXV are proud to be the largest public mining marketplace in the world by the number of listed companies and equity capital raised in the sector. The Exchanges are committed to continuing to provide a vibrant and diverse stock list for retail and institutional investors from Canada and around the world, including those investors interested in the mining sector.
By the numbers: Mining sector on TSX and TSXV
As of January 31, 2015
1,485: number of listed mining companies
$265.6 billion: total market capitalization
$8.9 billion: equity capital raised in 2014
500+: number of global analysts that cover listed mining companies
40: estimated percentage of all trading on TSX and TSXV that originates outside Canada
---
Visit TSX and TSXV at Booth 2917 at PDAC 2015, held in Toronto this week from March 1 to 4.