TMX POV - Chicago's Startup Ecosystem Is Deeper Than Deep Dish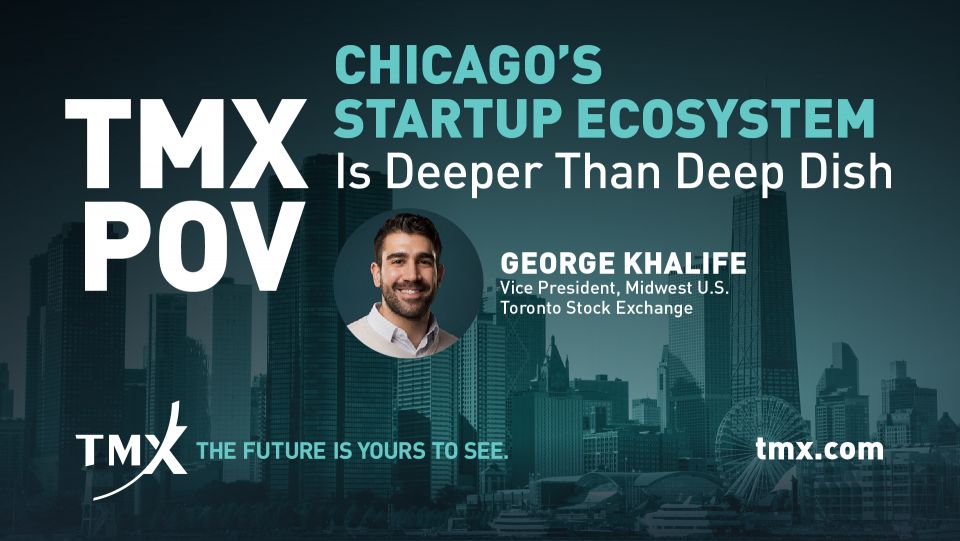 Chicago is home to ten of the Fortune 500 companies (the Midwest is home to a third of them), and the second-largest central business district in the United States. Of course, we all know Chicago is home to the legendary Bulls team that won six titles, but there's something that makes this city and the region at large special – something deeper than its astonishingly good deep-dish pizza.
When I first moved to Chicago to build presence for Toronto Stock Exchange (TSX) and TSX Venture Exchange (TSXV), I was made aware of a statistic that blew my mind - Chicago ranked the No. 1 U.S. city for VC returns. The metric they use to analyze this is the Median Multiple on Invested Capital (or MOIC) – which tracks returns from 2013 to 2018. Chicago led the pack, boasting a 5.6x multiple, with Seattle (4.8x), LA (4.7x), and New York (4.4x) trailing behind. Crazy, right? Some believe that with most of the VC funding cornered in the coasts, startups in Chicago started out being bootstrapped and relied more heavily on the ability to generate cash quickly.
Research conducted by Hyde Park Angels in 2018 suggested that "Chicago's 10 most valuable exits generated more money than those in New York City, Seattle, and Boston metro areas, and its total is only surpassed by Los Angeles." Chicago's top 10 exits generated approximately $14.9 billion with 8 companies netting more than $1 billion each (including GrubHub, Coyote Logistics, Naurex). Removing outlier exits like Snap's $20 billion IPO (for LA) and Groupon's $20 billion IPO (for Chicago), the analysis becomes less skewed – and goes on to show that without Snap, LA's top 10 exits over a 5-year mark generated $11.4 billion, giving Chicago the edge among the group.
Chicago has definitely demonstrated its strength among its peers and has built a great incubation ecosystem to help propel entrepreneurial ventures forward. In fact, the world's best business incubator, 1871, is located in the heart of Chicago's downtown. There are also dozens of programs and organizations working towards helping women founders succeed in the city. One in particular is Ms. Tech – which looks to bring together women in tech to help each other. Startup Genome's research identified that Chicago is currently the number one startup ecosystem for female founders and has the largest percentage of women-founded startups in the world (25% compared to the global average of 14.1%). Genevieve Thiers, founder of Sittercity.com, was one of the first women in Chicago tech to score a notable exit and is now actively investing in women-in-tech companies.
This begs the question: are there any challenges to what seems to be a flawless startup ecosystem?
"Chicago has a reputation for not having early-stage capital," says Thiers, "which is not unfounded. There is a conservatism to investing in companies here."
For instance, if you analyze the dollar value of deals done in the six central Great Lakes Region (GLR) states versus coasts, you'll find it reveals a big disparity. Research done in 2017 shows that GLR states had a similar total number of deals as Boston, but the dollar values of the deals in Boston were 2.3x larger than in the Great Lakes. In California, the dollar amount was more than 12x larger than GLR investments. Why is that the case?
"Midwest VC funds are relatively few in number, smaller, and more dispersed across a broader geography than those in large deal-making hothouses."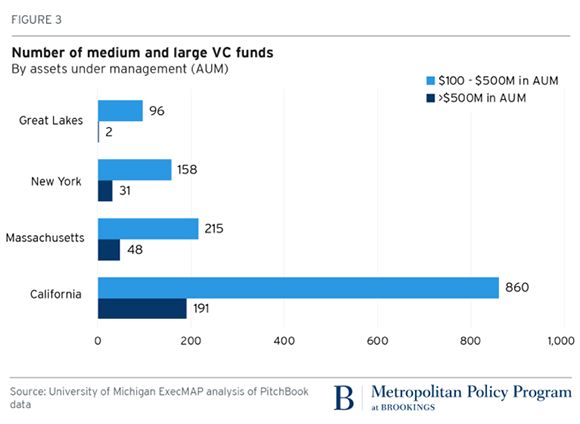 As Figure 3 suggests, Midwest's smaller funds can't compete in a VC environment where there are fewer successful exits and more capital is required.
If you look the IPO history of companies headquartered in Illinois with exits that occurred between 2009-2020, there were roughly 13 companies with properly disclosed financials - and on average, these companies had (source: PitchBook):
IPO raise of $146 million
Post valuation of $909m
Revenues of $1.088bn
There is a model that hasn't been fully considered or explored by U.S. companies in the Midwest, and that is going public on TSX or TSXV – a model vastly different than that of the States, or anywhere in the world. Where the average IPO in the US is around $246 million, in Canada, the two-tiered marketplace is made to serve earlier-stage companies on TSXV to multi-billion dollar established businesses on TSX. To give you a better idea:
TSX is the senior market for larger, more stable companies with a track record. The average financings on TSX fall in the CDN $25-$100 million range and have an average market cap of $2.0 billion.
TSXV is uniquely tailored for early-stage companies looking to raise public venture capital; TSXV provides financings typically in the CDN $5-$25 million range and TSXV issuers have an average market cap of about $30M.
Think of TSXV as an incubation platform for earlier-stage companies to get more acquainted with being a public entity. For sports fans, the analogy I always use is a basketball player going from the NCAA to NBA. This two-tiered model has enabled more than 670 companies that were previously listed on TSXV to graduate and up-list to TSX (almost 40% of current TSX-listed technology companies started on TSXV). For those looking to dual-list on a US stock exchange, listing on Nasdaq or NYSE becomes much easier. There are currently more than 180 companies dual-listed.
---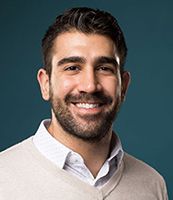 ---
Note: All numbers are quoted in U.S. dollars unless otherwise stated.
This article is provided for information purposes only. This article is not an endorsement or recommendation of any securities or industry referenced herein. The content of this article does not constitute a solicitation or recommendation. US persons may not access the Canadian markets directly, and any questions about or interest in investing in the Canadian markets should be directed to a US broker. Neither listing on TSX nor TSX Venture Exchange guarantees the future performance of a security or an issuer. The information in this article contains historical information, and such historical information may not be indicative of future events. TMX Group Limited and its affiliated companies do not represent, warrant or guarantee the accuracy or the completeness of the information in this article. This article does not, nor should it be construed as, providing any trading, legal, accounting, tax, investment, business, financial or other advice, and you should not rely on it for such purposes. This article is not a substitute for professional advice and professional advisors should be consulted.