Karin Adams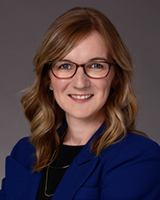 Interim Senior Vice President & Group Head Human Resources, TMX Group
Karin Adams is interim Senior Vice President & Group Head of Human Resources (HR) at TMX Group and is responsible for leading overall HR strategy and program execution across the enterprise, as well as internal employee communications.
Ms. Adams joined the Company in October 2019 in the role of Vice President, Total Rewards. Her responsibilities included leading the development and implementation of TMX's total reward strategies and programs for employee compensation, incentives, pay design, job evaluations, pension, benefits and wellness, HR technology, and HR operations.
Prior to joining TMX Group, Ms. Adams served as Senior Director, Total Rewards & Organizational Development at Maple Leaf Sports & Entertainment (MLSE), leading that organization's total rewards, HR technology and learning and development strategy. Prior to her time with MLSE, she was a senior consultant in executive compensation and rewards with Willis Towers Watson. Ms. Adams is also a former lecturer at the Ivey School of Business in the area of business administration.
Ms. Adams has an MBA from the Ivey School of Business and holds the CFA designation.