Frank Di Liso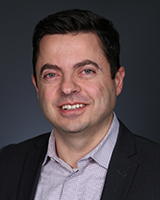 Interim Chief Financial Officer, TMX Group
Frank Di Liso is currently TMX Group interim Chief Financial Officer (CFO) and is responsible for corporate strategy, corporate development, investor relations, administration and the financial management of the company, including financial planning and reporting.
Mr. Di Liso joined TMX Group in January 2009 and has held various senior leadership roles in the finance department, including financial planning, administration, reporting, tax, treasury and corporate development. He has served as CFO of the Canadian Depository of Securities since 2018, Treasurer of the Canadian Derivatives Clearing Corporation since 2014 and CFO of Shorcan Brokers Limited since 2018
Prior to joining TMX Group, Mr. Di Liso was in senior roles in the finance departments at Bell Canada (2005 to 2009) and Rogers Communications (2001 to 2005).
Mr. Di Liso obtained his Chartered Accountant designation from the Institute of Chartered Accountants of Ontario in 2001. He graduated from the University of Toronto with a Business Administration degree (Honours) and is a graduate of the Rotman CFO Leadership program (2019).