Loui Anastasopoulos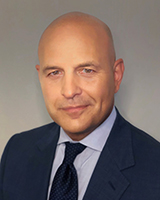 President, Capital Formation and Enterprise Marketing Officer, TMX Group
Loui Anastasopoulos is President, Capital Formation and Enterprise Marketing Officer, TMX Group.
Mr. Anastasopoulos is responsible for TMX Group's Capital Formation businesses, including its global listings businesses, Toronto Stock Exchange (TSX) and TSX Venture Exchange (TSXV), as well as oversight of the Enterprise Marketing function for TMX Group, responsible for driving proactive, integrated marketing programs across the organization.
Mr. Anastasopoulos's accountabilities include ensuring that TSX and TSXV operate in accordance with their important public interest mandate and that their policies are continually reviewed and developed to address developments in the global capital markets.
Mr. Anastasopoulos oversees a global business development team with representatives located in Canada, the United States, China, Israel, Brazil, Peru and the United Kingdom.
Additionally, Mr. Anastasopoulos has oversight responsibility for TSX Trust Company, our corporate trust, transfer agency and registrar business, and provides strategic guidance and direction to the company in his capacity as a Director. Previously, he served as CEO of TSX Trust, and under his leadership and vision, helped TSX Trust become the largest Canadian-owned transfer agent, and provider of corporate trust services.
Mr. Anastasopoulos joined TMX Group in 2006 and has served in a number of senior leadership roles in the Capital Formation business, including Vice President, Global Business Development, and Director of Relationship Management and Product Development.
Mr. Anastasopoulos has over 20 years of financial services and capital markets experience. Prior to joining TMX Group, he worked at Scotia Mcleod, National Bank Financial and a Toronto-based financial services start-up. Mr. Anastasopoulos graduated from the University of Toronto.