John McKenzie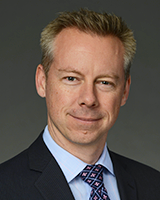 Interim Chief Executive Officer and Chief Financial Officer
John McKenzie is the Interim Chief Executive Officer and Chief Financial Officer of TMX Group. He is responsible for the financial management of the company as well as for the administrative oversight of TMX Group's Capital Formation business. He is also a member of the TMX Group Executive Committee and the Board of Directors of Canadian Derivatives Clearing Corporation (CDCC) and The Canadian Depository for Securities Limited (CDS).
Working with TMX for 19 years, Mr. McKenzie's career has included senior roles within Corporate Strategy and Development and Corporate Finance. He has led financial and strategic planning efforts and managed various TMX acquisitions, including the Maple transaction, Montréal Exchange and Shorcan, as well as the resulting integration initiatives.
In July 2015, he was named President of CDS. Prior to that he was the Chief Operating Officer (COO) and CFO of CDS, Canada's equity and fixed income clearing house and a wholly-owned subsidiary of TMX Group.
Mr. McKenzie is a Chartered Professional Accountant (CPA, CMA) and has an MBA from Edinburgh Business School, Heriot-Watt University and an Honours BA from Wilfrid Laurier University. He has served a number of boards, and currently is a member of The Accounting Standards Oversight Council.