Cheryl Graden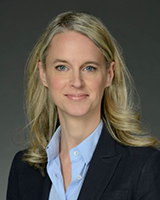 Chief Legal & Enterprise Corporate Affairs Officer and Corporate Secretary, TMX Group
Cheryl Graden is Chief Legal & Enterprise Corporate Affairs Officer and Corporate Secretary, TMX Group. She is also an officer of TMX Group Limited and its subsidiaries and a member of the TMX Group Executive Committee. Ms. Graden has responsibility for advising TMX Group on all legal and regulatory issues that arise out of its operations and business initiatives. Over the last few years, the scope of her role has expanded to include the oversight of Enterprise Risk Management, Government Relations and Corporate Communications to ensure alignment in our enterprise approach across all stakeholder groups.
Ms. Graden began her legal career at Torys LLP in 1996 and joined TMX Group in 2004 as Chief Legal Officer at NGX in Calgary. Her role expanded over the years to encompass additional responsibilities, including the Canadian Depository for Securities' legal and regulatory affairs.
In January 2013, Ms. Graden was promoted to Vice President, Cash Clearing and Energy. She is an acknowledged expert in energy and clearing and has been a regular speaker on these topics across North America.
In addition to an undergraduate degree from the University of Alberta, Ms. Graden earned Bachelor of Laws and Masters of Law (Securities) degrees from Osgoode Hall Law School and is called to the Bar of Ontario. She is a Member of the Law Society of Upper Canada.