TMX Grapevine
In today's hyper-competitive workplace, investment and trading firms globally need to be able to build analytics to drive faster and more informed decision-making abilities. Time-to-market is everything.

Financial data, while typically well structured, grows at an alarming pace each year, with Canadian markets averaging 80 million quote updates per day and US markets averaging over 300 million quote updates per day. Maintaining this sheer amount of data in an accessible format to perform research or analysis against is often a third, or even half of the challenge. The trade off is most firms siphon off certain data elements, losing valuable granularity and detail along the way.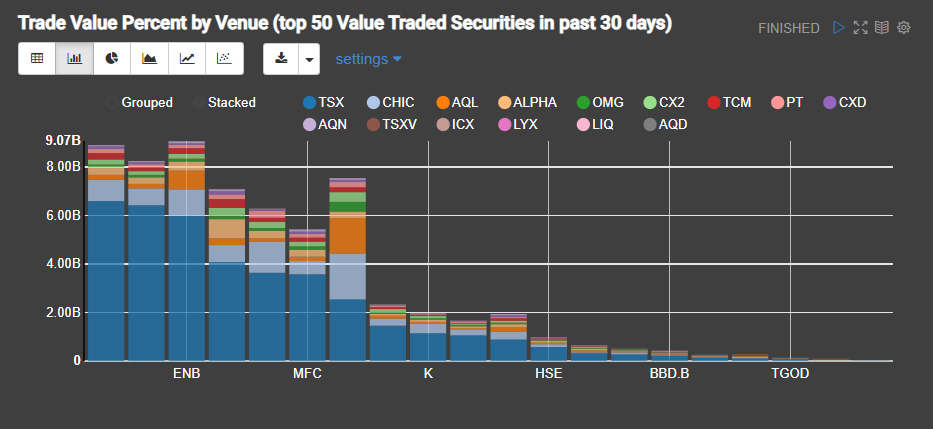 Analytics-as-a-Service
Our core platform, TMX Grapevine, is a managed data and analytics platform enabling clients to leapfrog themselves to building meaningful analytics relevant to their business, without worrying about ongoing data administration or data infrastructure efforts. Clients no longer need to worry about sourcing data, warehousing it, normalizing and cleansing it, or replicating an orderbook - rather they can get started building strategies instantly.

Our multi-asset data sets combine millisecond-granularity from over 200 exchanges globally, and centralize them in our cloud-optimized data lake. Clients are able to access this data lake at fractions of the time and cost of buying it directly and storing it themselves. And because its all hosted in the cloud, we provide the storage and compute necessary to fuel complex queries or apply machine learning at scale.

Explore how TMX Grapevine can help your business:
Speak to a TMX Global Analytics Representative today to get started.
Sign up for a FREE 15 day trial. No credit cards. No commitments.